Reading Time:
4
minutes
One of the first decisions you'll have to make in starting your business is whether to join with an established brand or sink or swim with a brand entirely of your own making.
In many ways, opening a franchise is just like starting any new business. To find success, you'll need sharp business acumen, a resolute work ethic, and tremendous self-belief.
That said, there are some key advantages and considerations to keep in mind if you're considering opening your franchise location.
Let's explore some of the top pros and cons of franchises and discover which business model is right for your career aspirations.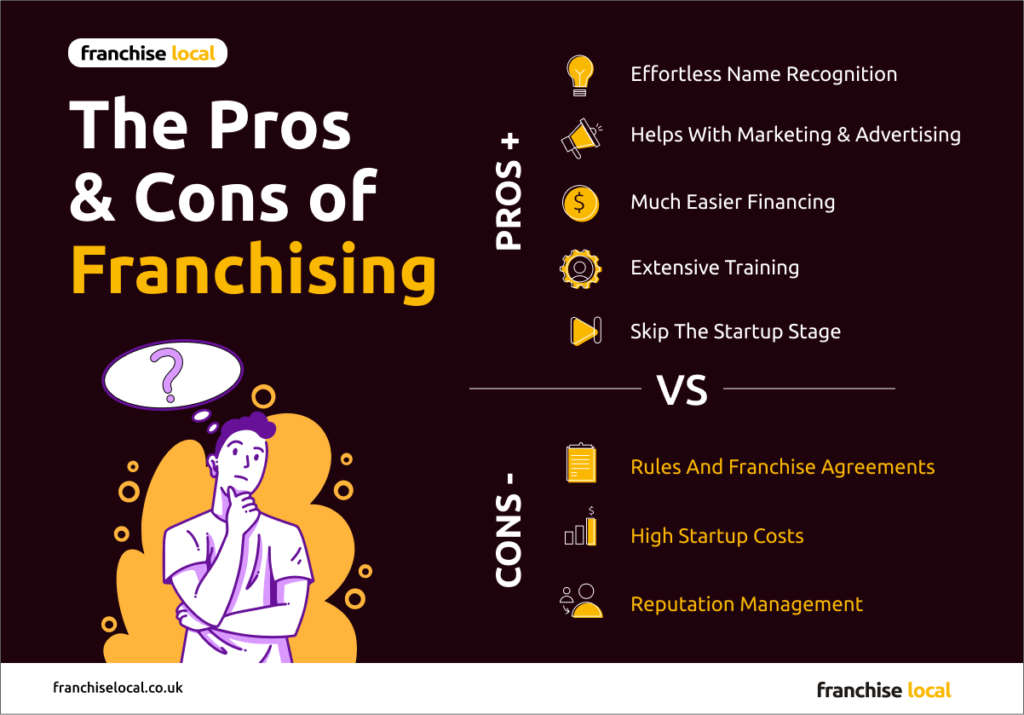 The Pros of Purchasing a Franchise
First, let's dive into some of the top benefits you'll find in opening a new franchise location in your local neighbourhood.
1. Effortless Name Recognition
Subway. McDonald's. Kentucky Fried Chicken.
Simply reading each of these names likely stirred up a reaction in you. Perhaps it was an image of colourful packaging or the aroma of fresh bread popping out of the toaster.
This is one of the key advantages of opening your own franchise: instant and effortless name recognition.
If you've ever travelled in a foreign country and been less than satisfied with the culinary options on offer, you may have turned to one of these franchises to bring you a meal you could trust.
Whether you enter the food and drink service or not, your business could provide that same familiarity and comfort to your customer base.
From the moment you open up your doors, you can trust that people in your neighbourhood will already have countless positive associations with whatever brand you choose.
2. Skip the Startup Stage
The lengthy, laborious process of the startup stage puts many potential business owners off from taking the leap into business ownership.
Before you've earned a single penny, you'll need to:
Conduct market research
Develop and test a minimum viable product
Scale intelligently
Each of these stages has dozens of steps that can derail your progress if you get them slightly wrong. If you're hopping into a franchise that already has several (or several thousand) locations, then all of this hard work is already done for you.
It's been proven that this business can work somewhere.
Now, it's time for you to prove that you're the right owner to make it thrive in your local neighbourhood.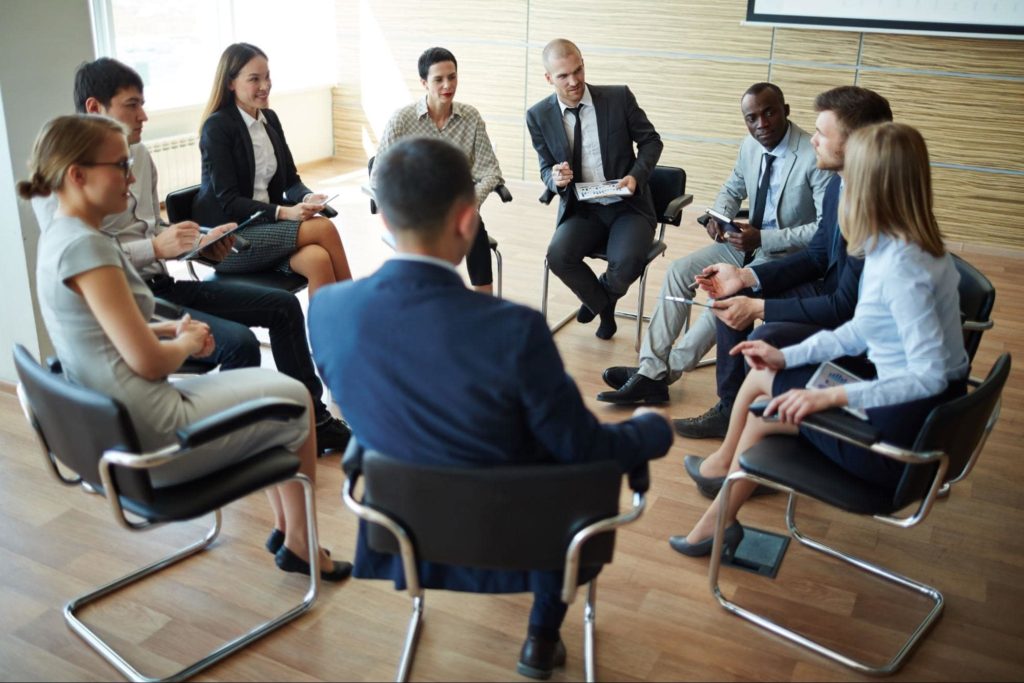 3. Extensive Training
If you decide to start your own brand, you'll quickly understand the meaning of the phrase, "You're on your own." There's no teacher, no experienced partner to lean on.
Your success or failure will be entirely in your hands.
What if you've never managed a team of more than a half-dozen? That's a big leap to then hire and motivate thirty or forty employees.
Fortunately, as an owner of a franchise location, you're not alone.
Franchise owners want every location to succeed. So, they'll invest heavily in training your employees and even yourself in tried-and-tested management techniques.
Your team will quickly gain daily operational skills that have led to success at other locations. Granted, you'll still have to motivate and create camaraderie between all of your employees.
But that daunting mountain just became a little easier to climb, didn't it?
4. Much Easier Financing
We can't talk about starting up a new business without thinking of the startup costs.
If you have an idea for your own brand, it can be incredibly difficult to secure financing for an experimental new brand. Think of the questions your lender might have:
What experience do you have? How can we trust that this model can repay our business loan?
Now, imagine that a lender can look at hundreds of examples where your business model has already proven successful. They'll likely be more forgiving if your location isn't an immediate success.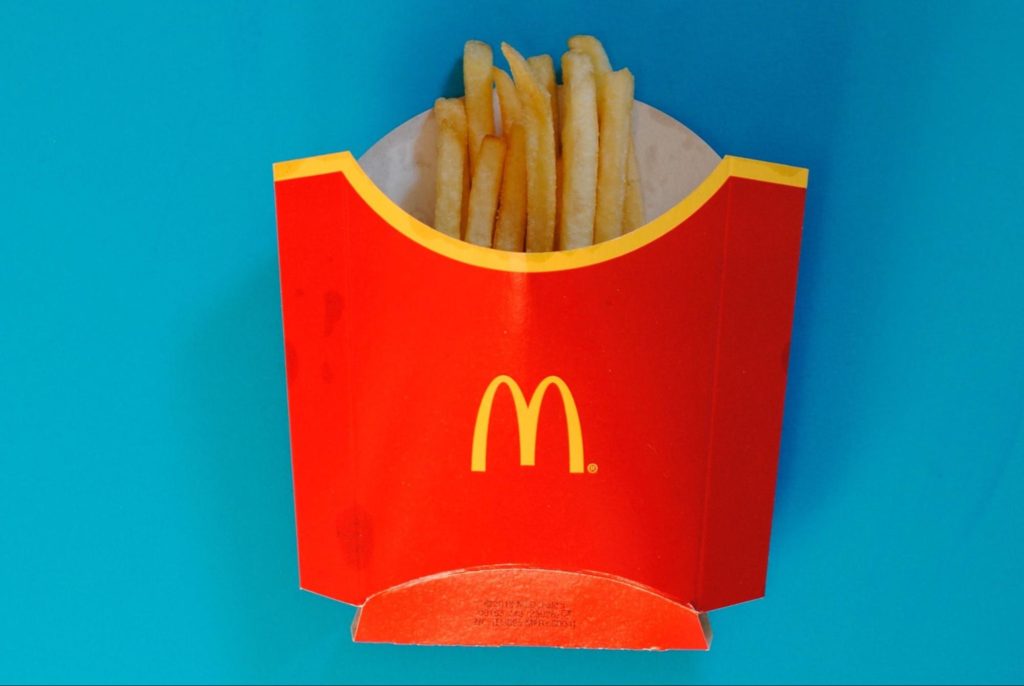 5. Help With Marketing And Advertising
One of the most difficult challenges with any new brand is also one of the simplest: how do we notify the world that we exist?
As a franchise owner, this hurdle is already largely covered by your established brand. They'll promote your business using national campaigns on TV and online.
If you want to create local campaigns, your established brand might be able to provide a budget, market analysis, and strategy to help it succeed.
The Cons of Franchising
Now that we've covered many of the pros of opening a franchise, let's cover some of the drawbacks of this type of business model.
1. Rules and Franchise Agreements
Being a business owner comes with risk and responsibility and some tremendous upside.
Sure, you might have to go into substantial debt, but at least you get to be your boss. Yes, you might have to manage others, but ultimately, your success or failure depends on your own acumen and work ethic.
When it comes to franchising, the truth is a bit more complex.
If you agree to open a franchise, you'll likely be asked to sign a Franchise Disclosure Agreement. This document will outline in detail all the rules and standards you agree to uphold as a representative of the established brand.
While you might have a great idea for how to drum up business in your local neighbourhood, you better make sure first that it doesn't violate your agreement. If it does, you risk losing your franchise and your business.
If you decide that the conditions are too restrictive and want to sell your business, you might find it's a bit harder to exit than you imagined. Consult with a trusted legal professional to fully understand the agreement of your franchise contract.
2. High Startup Costs
While you'll likely find it easier to secure financing to buy a franchise as opposed to starting your own independent business, some brands can charge substantial franchise fees.
Green Machine requires a minimum investment of £21,000, while GoliathTech charges a whopping £100,000.
Taking on debt is nearly a certainty with any business, but those eye-popping sums might discourage you from opening your location.
3. Royalty Fees
While you can certainly accrue a great deal of wealth operating your own franchise, those potential profits will never be quite as high as they could be with your own startup.
Why? Royalty payments.
Your parent brand will take out a recurring chunk of revenue in exchange for your lease of their name and system of business. In addition, you'll be asked to contribute to advertising and marketing costs at your brand's discretion.
4. Reputation Management Issues
Let's imagine you're the best franchisee owner imaginable. You run a tight ship, motivate your team members well, and form an unbreakable bond with your local community.
Business is thriving.
Now, what if a national scandal erupts? Your parent brand makes a major gaffe that has nothing to do with your actions.
Like it or not, your business might plummet. Of course, this hypothetical could apply in the other direction as well.
A competing brand could experience a media disaster, and your location will benefit for reasons out of your control. That's a much better scenario, isn't it?
When you become a franchisee, you must accept that some percentage of your success (or potential failure) is out of your hands.
Find Your Franchise With Franchise Local
From instant name recognition to restrictive contractual agreements, there are tremendous upsides and sizable considerations to keep in mind in starting your own business.
It's one of the toughest decisions you'll make in your whole life.
That's why we're here.
Browse our expansive catalogue of UK-based Franchises, from the most popular brands to low-cost franchises fit for any budget.
To learn everything there is to know about franchising, read through our news and resources page to discover how much you should pay for a franchise and the top tips of the trade from successful franchise owners.