Street Greek offers authentic Greek street food with a modern twist, the food is served to you in an open theatre-style kitchen, bringing the food of the gods to the modern-day consumer.
Street Greek offers authentic Greek street food with a modern twist, the food is served to you in an open theatre-style kitchen, bringing the food of the gods to the modern-day consumer. Read Less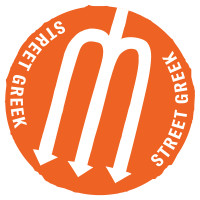 STREET GREEK – OFFERING A HANDS-OFF APPROACH TO INVESTORS
Legend Has It…
The Street Greek recipes were derived from secret scrolls, protected for generations by the Gods of Olympus and kept in the safety of Gardenopolis. The scrolls were stolen from Zeus, by Hades in a resentful rage of the culinary dystopia that he had to endure in the Underworld. Zeus was furious and commanded Hercules, Achillies and Pegasus on a quest to retrieve the scroll and return it to its rightful place. They faced minotaurs and monsters but the heroes battled on and reclaimed the scrolls from Hades. Zeus was overjoyed and instead of concealing the divine recipes of the gods, he decided to share them with a select few.
The contents of the secret scrolls were handed down from one generation of guardians to another until Zeus himself gave his blessing to the founding fathers of Street Greek to share the magical flavours with the world.
We, at Street Greek, love everything Greek. Our aim is to pay homage to our ancient recipes, whilst combining a modern taste with traditional Greek street food. We thank Zeus for the gift that he has bestowed upon us… he was a 'hella of a fella'!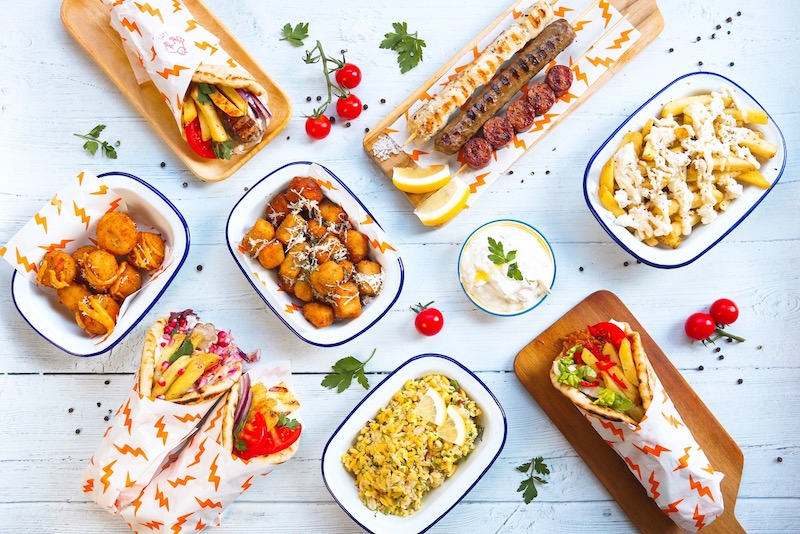 Our Aim:
to pay homage to ancient Greek values, whilst combining a modern taste
Our Vision:
to make modern Greek street food the new standard in the quick service restaurant industry
Our Mission:
to become market leaders
Our Brand:
the creativity is visible across our store designs, online, on our menu, products, and packaging. We continue to inspire whilst adding an element of fun.
Our Menu:
quality ingredients and authentic Greek taste. We are committed to using cage free, pasture raised grass fed meats, seasonal vegetables, and ethically sourced ingredients
Our Sites:
over the counter with small dine-in areas and a newly launched kiosk concept serving customers on site, through delivery and takeaway models
Our People:
we understand the true value of our people, rewarding them for their commitment and hard work
Our Customers:
we place great emphasis on understanding our customers' expectations and continue to deliver a first-class service, a quality menu whilst maintaining high standards
Our Processes:
our simplified operations have been perfected to ensure food is fresh, prepared quickly, consistently, and profitably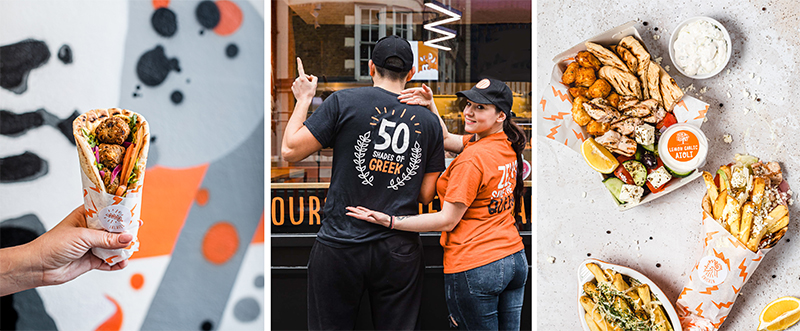 The Franchise Opportunity
As a unique QSR brand in the franchise market, there is one key noticeable factor, Street Greek are the only modern Greek street food brand in the industry and we are rapidly expanding nationwide. We've quite simply spotted a gap in the market and are very quickly capturing the attention of both experienced and new investors keen on getting in on the action.
As a partner, Street Greek are offering you an opportunity to be as hands on in the business or a completely unique hands-off proposition.
Types of Operations
Owner Operator
The owner operator model is completely hands on, allowing you to run the business full time, serve your customer and manage your team. You'll be right at the heart of your operation.
Management Model
You prefer to be slightly hands-off, leaving your team to operate the daily running of the business whilst you manage behind the scenes, building a robust infrastructure. Maybe you're adding to your existing franchise portfolio or at the start of becoming a multi-unit operator.
Investor/Developer Model
The Street-Greek completely hands-off model, ideal for super busy investors keen on action without getting their hands dirty. A key USP when your business is completely managed by the Street Greek operations team.
What We Are Looking For
Passionate about the Street Greek brand
Drive and determination to succeed
You must have world class people skills
Effective management skills
Understanding of business and operations
Excellent business English skills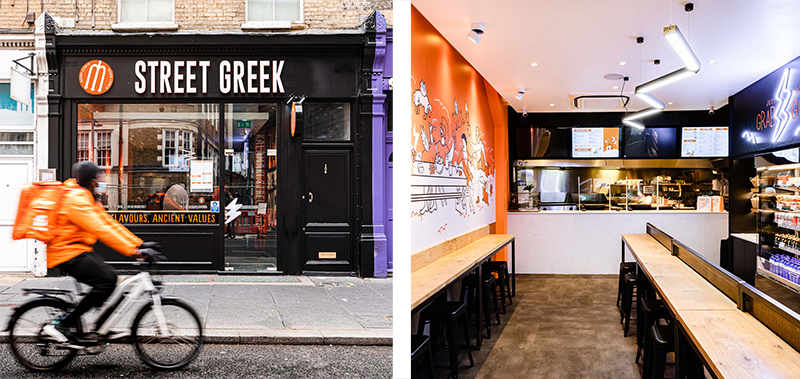 Training and Support*
Support with site sourcing
Project managing site fit-out
6 weeks of training pre and post launch
On-site operational training
Training on legal requirements, health & safety laws
Key staff member training
Training on managing your cash flow and profit and loss
Guidance on employee recruitment and legislation
*Training and support will depend on your level of involvement in the business.
Fees and Investment
Franchise Fee: £15,000 plus VAT
Royalty Fee: 5%
Marketing Contributions: 2%
Total investment (based on location and size): from £120,000 - £200,000*
Minimum available capital required: £80,000
*Finance and leasing options available. Other fees will apply and will be discussed during the initial discovery phase.
Next Steps
If you think the Kalamaki Street Greek franchise would be perfect for you, fill in the form and you will be sent further information on this fantastic opportunity.