Award-winning care with an award-winning team offering an innovative approach to how care at home is delivered to vulnerable adults and older people. Becoming a Franchise Partner with Bridgewater Home Care is a life changing opportunity where you can gain financial control of your future and... Read More
Award-winning care with an award-winning team offering an innovative approach to how care at home is delivered to vulnerable adults and older people. Becoming a Franchise Partner with Bridgewater Home Care is a life changing opportunity where you can gain financial control of your future and achieve a better work-life balance. You will positively change the lives of those you serve in your local community. Read Less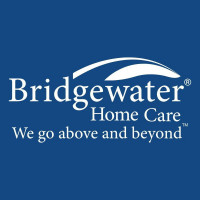 Welcome to Bridgewater Home Care
At Bridgewater Home Care we specialise in providing care and support to those living in their own homes. We offer a breadth of services from simple companionship to personal and specialist care for vulnerable adults and older people. We believe that everyone should have access to high quality care, enabling them to live well and remain independent in their own home for as long as possible.
The Bridgewater Way
Our mission
'Going above and beyond expectations with excellence running through everything we do, enabling people to live well.'
We are an award-winning, UK born and raised, domiciliary care provider with a focus on providing the privately funded care market with exceptional quality of service.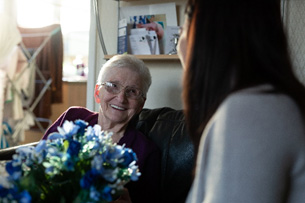 Our whole ethos is built on our brand values of quality, reliability, trust and exceeding expectations which we believe enables our clients and their families to expect much more from the service they receive.
We offer a refreshing approach to care at home, from how we recruit and train our staff to the systems and procedures we implement in our day-to-day work.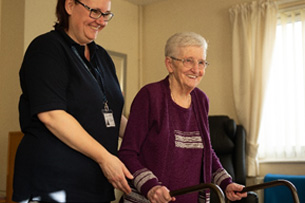 We are extremely passionate about providing a service that people can rely on, delivered by professionals who they can trust. It is from past experience of difficulty finding reputable and trustworthy care that led to the company being established. Throughout our 10 year journey Bridgewater Home Care has secured an excellent reputation in the market place.
We are much more than your average care provider; we are a support network who work together to create the Bridgewater 'Family'.
"I enjoy every moment with the girls. I personally call them 'friends' rather than carers!"

Client
Our Proven Business Model
Becoming a Franchise Partner with Bridgewater Home Care can be extremely rewarding for you, your family and those you support in your local community. Not only do you have the opportunity to grow a sustainable and exciting business but you will also have access to some of the best support and advice from your franchise support team along the way.
With decades of experience in the health and social care sector, we have tried and tested a breadth of systems and practices and developed a successful business model that provides our Franchise Partners everything they need to make a success of their new venture. The opportunity offers a recession-resilient, pandemic-proof business model that has stood the test of time during many adverse economic conditions over the years.
The Bridgewater Home Care model is also ideally positioned in the marketplace, offering a perfect balance between quality of care and value for money to clients.
Whether you are looking for an opportunity that provides you with more flexibility or something where you feel you can make a real difference in your local community, our franchise offer enables you to achieve your own personal and professional goals surrounded by a network of like-minded professionals.
It can be extremely rewarding as a Bridgewater Home Care Franchise Partner. You will have the opportunity to grow a successful and profitable business in your chosen area whilst receiving help and support from our franchise support team and pre-existing Bridgewater offices.
We have tried and tested various systems, methods and practices over the years and have developed a successful business model that provides our Franchise Partners everything they need to create a successful new venture. Once you become a Franchise Partner you will establish your own office in your own exclusive territory, overseeing the daily operations and managing your staff with the help and support of our dedicated franchise team.
Why Bridgewater Home Care?
Proven and successful business model
Your success is our success
Employer of choice in the sector
Market-leading technology and IT infrastructure
Award-winning training programmes
One-to-one franchise mentoring
Excellent CQC compliance and support systems
With you every step of the way
We have developed the tools necessary to enable you to build a profitable and successful home care business, so you can focus on the more important things. Unlike many franchise models on the market, Bridgewater Home Care is a home-grown franchise model developed specifically to suit the needs of the UK care market. And unlike other franchise industries, the home care sector allows you to benefit from using all those invaluable transferrable skills you have developed during roles throughout your professional life.

Your Support
Our award-winning training and development programmes will help you to be confident when starting your business and enable you to grow and develop along your Bridgewater journey. We take time to get to know you, your goals and your vision to provide you with the best help and support to get you to where you want to be with your business.
Our Franchise Partners receive comprehensive initial start-up support, including business planning, market analysis and registration on all internal systems to help you launch your business smoothly. We are with you every step of the way, with 1-1 mentoring and support along with ongoing learning and development and sharing of best practice.
Your Bridgewater Family is always at the end of the phone should you need advice, have a query, or just for a friendly chat.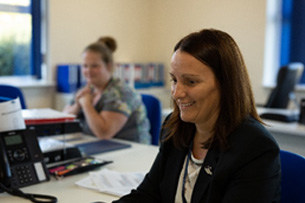 "It is clear to me that Bridgewater Home Care are superior to other agencies I have dealt with."

Social Worker
Could You Be A Franchise Partner
Something we frequently get asked about our opportunity is "Do I need a background in care?"
The answer is no - you do not need to have had a background in the care sector to become a Bridgewater Home Care Franchise Partner. We find that franchisees come from a broad range of backgrounds whether it be a former health or social care professional, or from a role in the corporate world. It isn't necessary to have prior experience of the industry but simply a passion to make a difference to the lives of others.
We are looking for motivated, passionate people to join our Bridgewater Family and help expand the business across the UK to those who want to be a part of it. We are extremely excited to be offering our franchise model to those who would fit well into our Bridgewater culture, and if this is you, we would love to have a chat!