Kalamaki Street Greek
A brand with a fresh approach to Greek street food
The ancient Greeks implemented their values of loyalty, glory, intelligence and hospitality into everyday life.
Here at Kalamaki Street Greek, our core philosophy is to represent these values in all that we do, from the way we serve our food, ensure our supply chain is sought from sustainable sources, creating mouth-watering flavour combinations, and providing our customers with loyalty driven value.
As a result of our passion for Greek food, we've created a menu that cannot be matched by our competitors in terms of quality, taste and variety.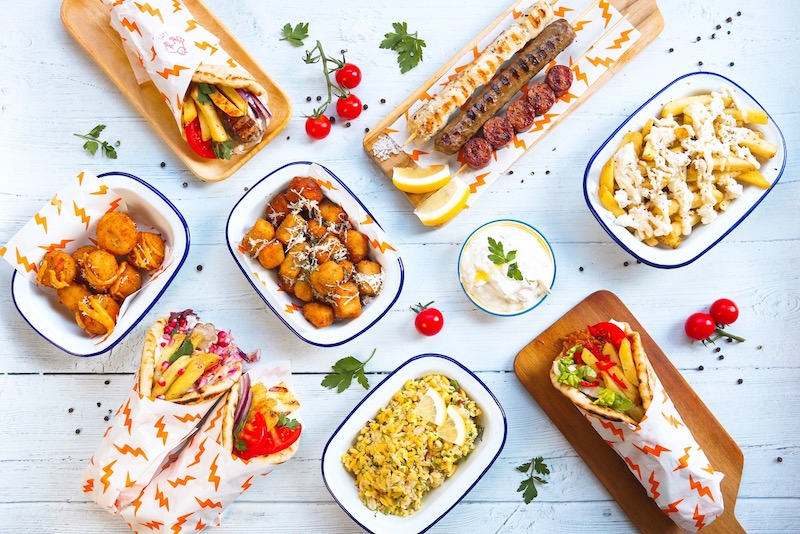 Our aim is to pay homage to these ancient values in servicing our customers with modern street Greek food. Using time honoured cooking methods, family recipes and quality produce we make real food with integrity and taste.
From our authentic fluffy Greek pita to our freshly marinated meats cooked on our specially designed chargrill. Our flavours aim to satisfy and delight. Mouthwatering sides, salads and dips complement our creative signature souvlaki range.
We are a modern fresh-casual Greek restaurant with a difference, inspired by the casual souvlaki joints found throughout Greece. A modern take on an ancient classic food thousands of years in the making. We are committed to providing our customers with the delicious tastes of the streets of Greece with a twist. Food inspired by the ancient gods made for the people.
Why Kalamaki?
Modern variations of classic Greek street food dishes, creative Souvlaki wraps to exceed expectations of all customers. Made slow. Served fast. We make real Greek street food. No greasy, unhealthy pre-made food, we're all about fresh, tasty ingredients prepared right in front of the customer.
What are we known for?
Great tasting, modern Greek street food made from quality ingredients
Sensible prices and good value for money
A relaxed, friendly and fun environment
Kalamaki Street Greek is a new venture but we are already in the middle of an extensive delivery of it to the market. Due to the experience of our management team, we believe that there are strong economical returns in this market.
Benefits of becoming Kalamaki Street Greek franchisee and what you'll receive:
Rights to use Kalamaki Street Greek brand name and trademarks
Advertising and marketing assistance
Full induction training for you and your staff covering all areas of Kalamaki Street Greek business
Site evaluation and advice regarding your franchise territory
Innovative store design
Promotional support - branded marketing materials
Full franchise back-up service - copy of our comprehensive franchise operations manual
A five-year franchise agreement with a right to renew
What are we looking for in a franchisee?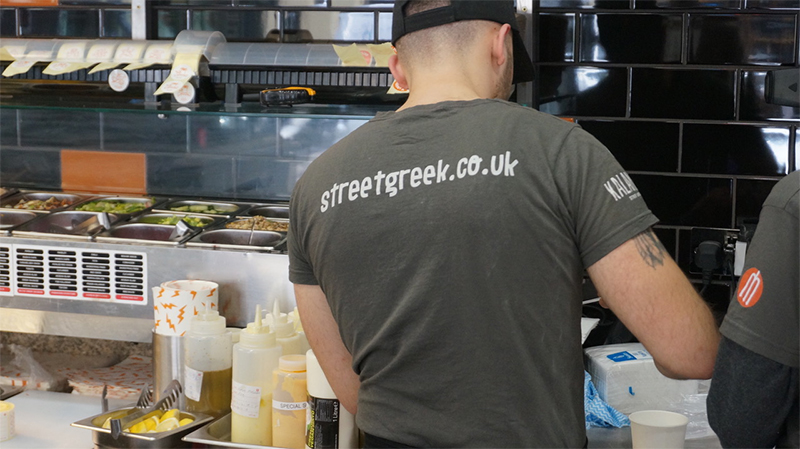 We aim to create a successful global network of the right people who will run our franchises. People from all walks of life can become successful Kalamaki Street Greek franchisees.
No prior chef experience is required as a comprehensive preliminary training program is provided for all new owners covering theory, practical and customer service.
Next Steps
If you think the Kalamaki Street Greek franchise would be perfect for you, fill in the form and you will be sent further information on this fantastic opportunity.