The Gadget Refuge franchise is a rapidly growing operation, with huge growth potential in a truly global market. Our proven sales and marketing strategies, as well as ongoing campaigns that will be run from Head Office, will ensure that customers arrive from the start of your Franchise.
The Gadget Refuge franchise is a rapidly growing operation, with huge growth potential in a truly global market. Our proven sales and marketing strategies, as well as ongoing campaigns that will be run from Head Office, will ensure that customers arrive from the start of your Franchise. Read Less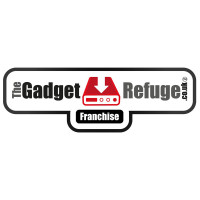 This is an exceptional franchise with 100% unsecured government funding available
100's of customer enquiries professionally generated for you.
The Gadget Refuge Franchise is exceptional in many ways…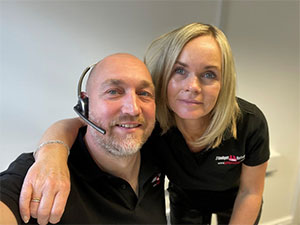 Filling a huge gap in the market for a high quality guaranteed service to fix mobile phones tablets and laptops, the Gadget Refuge has carved out a very successful business that continues to grow year on year.
The Gadget Refuge was launched in 2018 by Gavin & Tracie Garnett with the intention of creating a successful local business with a business model suitable for growth through franchising. Since our launch, we have successfully developed a very strong reputation within our local area and have now launched our franchise network.
Our goal was simple, to provide high quality guaranteed repairs to the local community. Sourcing and using the best available components for all of our repairs and providing an exceptional service have seen the business grow year on year.
We have examined every aspect of the business and we are absolutely confident that the formula we have in place will work exceptionally well across the UK and we can continue to develop the brand nationally
We are now experiencing unprecedented, and increasing, demand so we are seeking new franchise owners to extend The Gadget Refuge into new territories, creating a fantastic opportunity for those looking to start their own business, with the confidence of a tried and tested business model and brand behind them.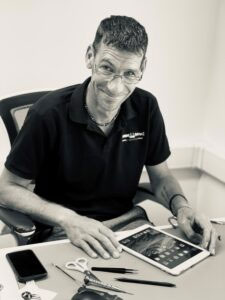 Introducing our first franchisee...
Dan Woodbury joined The Gadget Refuge in December 2020 and since that time he has absolutely excelled, further developing the area where the business was first established.
Dan's approach to customer service and his commitment in his own words to "being consistent with what Gav & Tracie started" has been excellent.
Locations
We are looking for franchise owners throughout the UK and Ireland.
Following a fantastic year of development, The Gadget Refuge now has 10 franchises operating, with a further two in the pipeline as of December 2021.

Having achieved a national presence within the 12 months since we began franchising, we are aiming to add 20 new franchises over the next 12 months.
Benefits of The Gadget Refuge Franchise Opportunity
In contrast to many franchise operations, we provide our network with a highly supported framework on an ongoing basis in which to develop their businesses. This approach will allow new operations to succeed in the smallest time frame possible and with each franchise benefitting from everything we have learned since our launch.
We Generate Customers For You…
All of your marketing is managed professionally for you at Head Office and you will receive 100's of ongoing customer enquiries starting from Day 1.
Our proven sales and marketing strategies, as well as ongoing campaigns that will be run from Head Office, will ensure that customers arrive from the start of your Franchise. Those enquiries will almost always coincide with the person having a look at existing trusted reviews before they decide to get in touch, providing you with a great advantage before you gain traction in your area.
Referring and Returning Customers…
Our business model, which is built around providing high-quality repairs and exceptional service is certainly appreciated by our customers who over the years will return with more repairs. But importantly because of your stellar customer care, they will be more than happy to refer many family and friends who will also fall into the same cycle of returning and referring.
Centralised professional social media marketing, web design and business support
Use of The Gadget Refuge name and branding, along with proven business processes and procedures.
Full technical and operational business training provided.
PLUS our Comprehensive start-up package and ongoing support to ensure you have all you need to develop the business.
100% Government Funding Available
No Royalty Fees Year One
Exceptionally Low Overheads and Start-Up Costs
Excellent Cash Flow
Group Buying Power Leading to Very High-Profit Margins
Professional Centralised Facebook Marketing Campaigns Delivering Customer Enquiries Daily
Industry Leading Systems for Ticket Management, Point of Sale and Accounting
A Laptop loaded with All Relevant Software
Tool Kit
Card Payment Software and Machine
Website and Social Set-Up
65% of Customers become Repeat or Referring Clients
A Totally Recession Proof and Covid – 19 Proof Business
An Initial 3 Month Free Professional Facebook Campaign
Full Technical Training Week 1 at Head Office
Sales From Week One Whilst You are Training
A Fully Protected Territory
Ongoing Technical Updates and Support
An Ethical Approach with High-Quality Products and Exceptional Service (100's of 5 Star Ratings)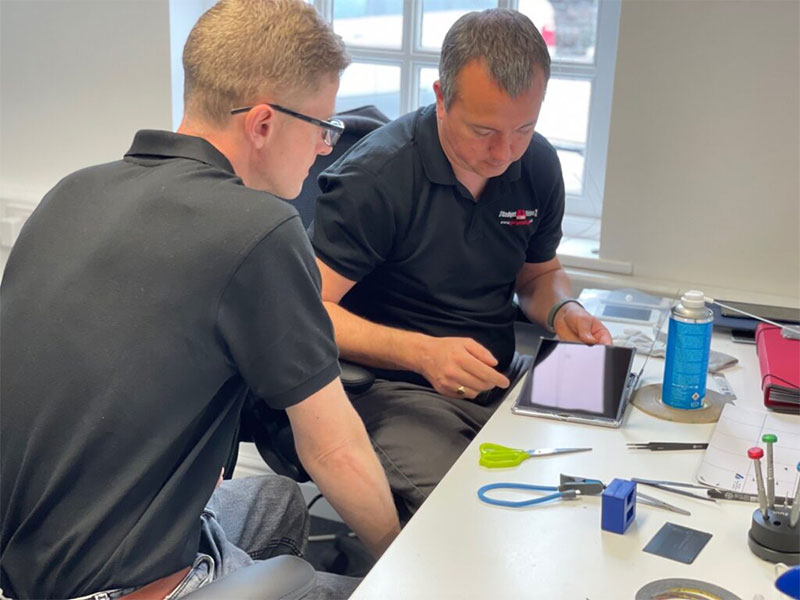 Training and Support
Initial training is carried out face to face from our head office in Chester, with further instructional videos available to be viewed via our Intranet after the initial training period. We also offer people who are interested in a franchise the opportunity for a taster session, come along and spend a couple of hours in the workshop to see some jobs through from start to finish and get a true feel for what it is all about.
Due to the nature of our business, new products and ever-changing technology is something we have to be prepared for, as common new products reach the marketplace we will ensure all franchisees are provided with updated training material to complement their existing skills and knowledge. A typical example of this would be Apple releasing new iPhone models which typically happens in the second half of each year.
Technical training is also provided from head office during your induction to provide insight into the common tasks we need to perform in day to day business operations such as:
Using the repair shop system "My Gadget Repairs".
Ordering spare parts, returning spare parts and managing stock levels.
Using the point of sales system for taking payments, creating invoices and viewing reports.
Advertising and promotion of your business.
Financial Information
The earning potential of a typical franchise is £40-50K working as a sole operator, however with additional territories bolted on and technicians employed this can grow exponentially.
The Franchise Fee is £14,950 (+VAT), payable upfront with no renewal fees down the line for life.
A Growing Market
The great news here is that virtually every household is a potential customer! In the UK, it is estimated that the spend on repairing smartphones alone is around £2 billion per year and growing. Around 37% of British smartphone owners have damaged their smartphones in the last two years.
Who are we looking for?
Our ideal candidate will have experience of working in a similar setting, although this is not a pre-requisite as full training will be given. An active interest in technology is a must as is being a self-motivated team player, as working with the community of franchisees is something we are keen to promote and encourage.
If the answer to the questions below is a resounding "Yes", then you could be the perfect fit for our franchise operation.
Do you have an active interest in technology?
Are you self motivated but a team player?
Do you have the drive and determination to succeed in your goals?
Do you have good communication and believe in excellent customer service?
Next Steps
If you think you would be the perfect fit for The Gadget Refuge Franchise, then fill in your details below, and we will send you more information.