Finance Available
Bodystreet Franchise
Fitness Franchise
If you're considering opening a fitness franchise but want to minimise your risk, Bodystreet might be an excellent option for you. We offer a low investment with a breakeven guarantee. For your clients, Bodystreet provides an innovative and effective way to get and stay fit, ... Read More even if they have limited time for traditional workouts. Our 20-minute program, done once a week, has been proven to burn fat, build muscle, tone and shape the body, alleviate back pain and improve posture. It's an excellent choice for busy individuals looking to prioritise their health. Read Less
Financing Assistance
Yes, through a third party.
Break even in
under 1 Year
Available Locations
Franchise opportunities available across the UK.
Franchise Associations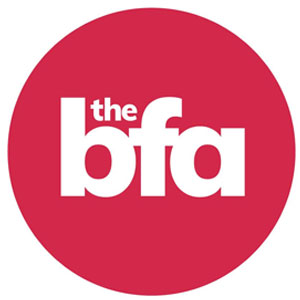 It's not what you do, it's the way that you do it…
Unlock the secret to scalable success in the fitness industry with the Body Street franchise, where innovation meets opportunity – discover how this could be your game-changing investment!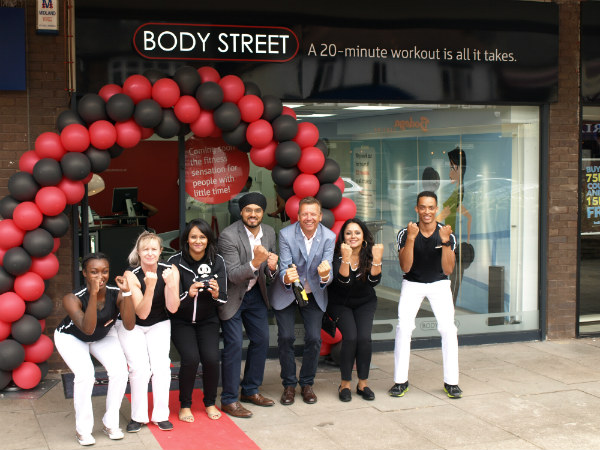 About Bodystreet Franchise
Believe it or not business success is less about the equipment and much more about the know-how and understanding of how the business really "ticks". Bodystreet is the world's leading operator in the area of EMS - Electo-Muscle Stimulation (more about that shortly). With over 14 years of experience, more than 300 studios and operating in 7 countries, makes Bodystreet the undisputed #1 in the sector. This position enables us to have first-hand knowledge of the know-how and what you need to be trained on to operate a successful studio. Our confidence comes from the success experienced by people, just like you, operating Bodystreet studios across the globe.
The conclusion of what makes a studio successful has led to Bodystreet creating extremely complex support programme. The support system includes a 30-head team at the headquarters in Munich, the UK support team and various external business specialists.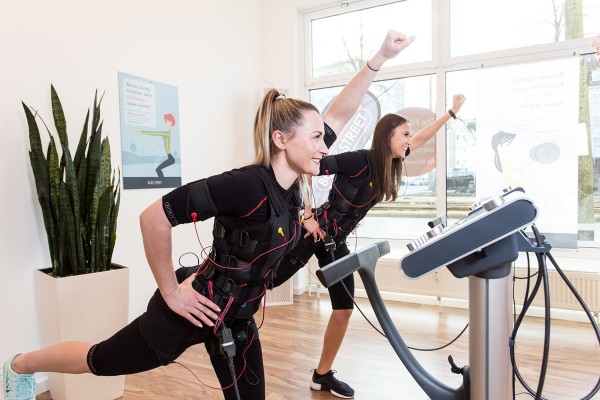 Training and Support Provided
To set up in business for yourself you'd practically need degrees in Business Administration, Psychology and Law, plus experience as an advertising consultant, web designer, HR manager, training consultant; to name just a few. And who has all of that?
Support is the most important reason why Bodystreet has pulled so far ahead in the market. And, as you would expect, Bodystreet has a comprehensive support package for you:
Initial Training for you and all of your team
Employee recruitment and ongoing training. We help you with the search, interviews, HR needs and training and development. We've even partnered with YMCA Fit, for those who wish, to provide the opportunity to study up to foundation degree level in business.
Accounting: Few of us are experts in accounting. This is why we developed an extremely simple accounting solution.
Marketing and PR: You will have access to all our marketing materials, fliers and posters. You will also have an entire online marketing library on hand
Internet: Our dedicated website hosts your own pages for you to promote your studio and is designed to drive enquiries to directly to your business. This portal has generated revenue of more than £2.5 million per year from trial sessions and subsequent memberships.
The Service – what your business offers
Gone are the days of spending hours in the gym each week. Bodystreet is an innovative workout studio that combines expert personal training with the buzz of Electro Muscle Stimulation (EMS). The result is a highly effective exercise programme that enables your clients to get fit, tone up and build muscle - fast! This revolutionary system is so effective that only one 20-minute workout a week is all it takes; making it perfect for anyone with little time, or interest, to spend hours in a traditional gym.
Electro Muscle Stimulation (EMS) training – the science bit
Everyday muscles are being stimulated. To enable movement muscles contract and relax through the impulses delivered to them via the central nervous system, the spinal cord and nerve fibres. These stimuli are, in the physical sense, electrical in nature. EMS is a targeted amplification of these stimuli which are delivered via the suit that is worn when exercising. In an EMS workout muscles experience an additional, increase in tension which optimises the engagement of your muscle fibres and thus delivers you a much more effective and efficient workout.
The numbers – setting up and potential
Bodystreet studios do not require large premises. The average Bodystreet unit is around 800 ft2. This is fantastic news if you want to keep your set-up costs and ongoing expenses to a minimum. Monthly turnover per member is impressive. In the UK the average traditional gym membership is around £40 per month. Your studio, just like other Bodystreet studios in the UK, will average over double, or more of that.
We expect, in fact we guarantee, that operating breakeven will be achieved in 6 months or less from opening; assuming you implement the know-how correctly.
The Ideal Bodystreet Franchisee
You will, obviously, have the ability to fund your business through your own means, or via one of the many sources we can introduce you to. Experience in the health or fitness industry isn't vital, we can train you to a great standard, however, an interest in sport, fitness or health is needed to have good credibility in your studio. What is really important to us is that you are;
Interested in developing your team. Bodystreet has a vision to be the best employer in the fitness industry by having the best trained and motivated teams of trainers. We will provide you apprenticeship programmes, training and development resources to grow your team. Buying into that vision is a must if you want to join us.
You have a positive attitude
You are teachable and will follow a proven system
You possess a good standard of IT skills
Ambition – you want to succeed. And know why.
Willing to operate your business hands-on – on not in the business
Ultimately you want to be part of something, a business, which can affect change. Better health for your studio members through the workout programmes. Better employment and career prospects for the younger generation.
If you would like to join us on our journey and you believe you could be a great fit with our team, just request more information with the button below.
Get Your Free Information Today!
To contact Bodystreet for more information regarding their Franchise and speak to them directly with any questions you have, please complete the form below.