Good, fresh and healthy food in a convenient and fast manner.
Salad Box provides healthy food choices like salads, vegetable soups, natural juices and smoothies, in a convenient and fast manner.
The turn-key restaurant solution, close proximity offered by the outlets of Salad Box and the concept fitting beautifully into the healthy-lifestyle movement is what makes Salad Box a remarkable business opportunity.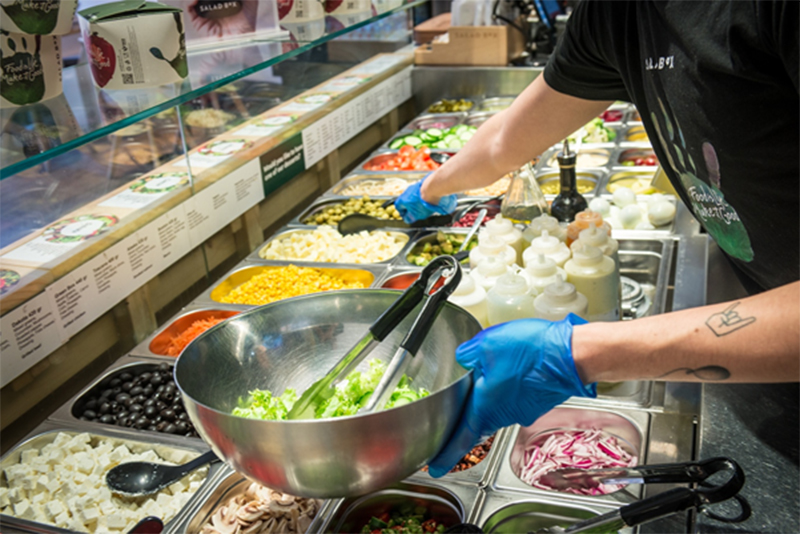 Our words are backed up by our success - 66 locations worldwide in 6 years!
Salad Box has explosively expanded since its first location was established in 2012. After the concept experienced domestic success in Romania, Salad Box converted their business to a franchising model, which has resulted in a massive growth for the company. Currently, Salad Box has 66 locations on 12 markets on 3 continents.
As of October 2019, Salad Box is present in the United Kingdom, Republic of Ireland, USA, Netherlands, France, Italy, Romania, Czech Republic, Bulgaria and more.
Salad Box aims to become the European leader in the healthy quick-service sector. We are now looking for individual and master franchisees in the UK, Republic of Ireland, Sweden, Norway, Denmark, Finland, and Poland. The ideal franchisee has franchise/restaurant managing experience and a passion for healthy food. Take advantage of this fabulous opportunity now!
The Concept
Salad Box customers can choose the salads ingredients, and everything is prepared right in front of them. The concept is associated with freshness, with food being prepared on the spot and healthy meal customisation, and has thrived due to its diverse audience appeal – from families to students, office workers and tourists. The Salad Box philosophy is simple: healthy food, at the best price possible with full control of the menu on the client's side.
The ingredients are always fresh, carefully chosen and all products are freshly made. The customers have the freedom to mix salad ingredients (instead of buying ready-made salads, which have a limited choice of ingredients and combinations).Our values are evident in all aspects of the business, and this is what made Salad Box a fabulous success:
Salad Box can offer ecologically and locally produced ingredients and gluten free products.
The food is prepared in front of the customers (who can see exactly what goes into each salad).
The price is competitive and meals are healthy.
Customers can find the same quality and standards in all Salad Box locations.
Salad Box is perfectly positioned to take advantage of the current trend towards healthy meals.
Lower energy consumption for Salad Box locations compared to regular fast-food locations.
In-house bespoke IT system provides analysis of the market and sales, reporting and accounting.
Franchise Package:
We deliver a series of facilities designed to maximise the profit and your success:
Support in selecting the perfect site for your Salad Box
Complete restaurant design & technical drawings
Purchasing of equipment & stock
Full franchise Operations Manual comprised of Managers Manual and Employee Manual
Management training
Staff training
POS system & software
Ongoing business development & operational support
All marketing - pre-launch, store launch & ongoing activities
Franchise fees:
Franchise fee of €30,000
Royalty fee: starting from 4.5% of the net income
Marketing fee: 1.5% of the net income
What will it cost:
Restaurants typically cost between £200,000 and £250,000 depending on the size and location.
Hop on the health trend, join Salad Box!