The Opportunity
The ShopAppy team are passionate about their local high streets and markets and ensuring that local businesses, town and city centres thrive.
Each ShopAppy business pays a monthly subscription dependent on the business type. This enables the ShopAppy businesses to easily promote their products or services on a dedicated, location specific website and app ensuring customers have direct access to their local businesses to browse businesses, book services and buy products with easy click and collect after normal business hours.
There are no limits to the number of products or services that can be advertised on the ShopAppy website.
ShopAppy is backed by a strong team who will work with the franchisees so that they can make the most out of the opportunity to benefit their local businesses and their communities.
A Shopappy Franchise is about:
Connecting with your local community
Having a mutually beneficial arrangement with shopkeepers and local businesses
Helping to stop your local town being swallowed up by big corporations
Being your own boss and being 'Appy'
ShopAppy works by enabling local independent shops to show information, products and services they have for sale in their town in one place. ShopAppy aims to encourage customers to go into town and use the shops nearby. The ShopAppy site brings all the products together into categories so that items can be search for easily.
ShopAppy works because it helps our local independent shops and businesses stay in our towns. ShopAppy prefer a world where local shops, local businesses and local communities support each other.
The ShopAppy Philosophy
ShopAppy maintain:
A uniform high quality of consistent minimum standards of service to all ShopAppy clients
ShopAppy offer:
A recognisable brand
Strong community connections
Standard administrations practises
Website
App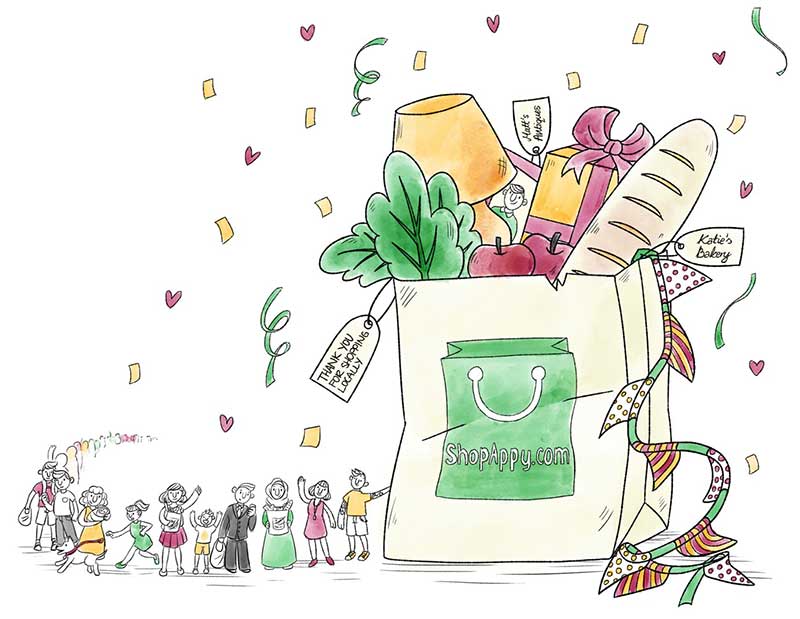 As a franchisee you will be involved in all aspects of the operation of the business. As a franchisor ShopAppy will be acting in a support role during this process.
A ShopAppy Franchise is easy to operate
From day one and on an ongoing basis ShopAppy will help you to develop your business, the strength and success of our business is a key factor in our growth. Growth and success of the business is essential as we only succeed when you succeed.
Key Franchise benefits:
A shop local campaign to promote the town and businesses
A website and app to promote their business and showcase their products and services
An e-commerce site and mobile app to enable easy ordering from local shops with click and collect
Use of the ShopAppy brand name
Confidence that you are working with a proven business formula
Full training given in all aspects of the business formula
Comprehensive start up package
Exclusive territory
A fully integrated website and App
E-commerce site
Personal mentoring and support
Franchise Operations Manual
5 year franchise agreement with right to renew

The ShopAppy business model
The ShopAppy business model is about quality and exceptional, bespoke customer service and satisfaction. We are dedicated to providing a quality product.
The key features of our business model are as follows:
Low start-ups costs
Operate from your chosen location
Comprehensive initial training
Ongoing training and support
High profit potential
Strong ongoing residual income
Quick growth potential
What we are looking for in a franchisee
In our selection of franchisees our recruitment process is structured and methodical, we know who does and who does not make a good franchise partner. In our discussions with you, our objective is to make sure that you know enough about us in order that you can make an informed decision on the franchise opportunity. Equally we want to know enough about you and your level of skills, to ensure that our growth is stable and synergetic.
A new franchisee will need to demonstrate high levels of:
Self motivation
Ambition
Determination
Business acumen
Leadership skills
Communication skills
People skills
A passion for their local high street
We look for people who are capable of setting themselves up in business but see the value in the brand, training, support and systems that investing in a franchise with ShopAppy brings.