We are looking for passionate like-minded individuals who want to make a difference in football. We Make Footballers offer you the opportunity to help children of all abilities become the best footballers they can be. Our franchise business is open to organised, determined, and ambitious sports and... Read More
We are looking for passionate like-minded individuals who want to make a difference in football. We Make Footballers offer you the opportunity to help children of all abilities become the best footballers they can be. Our franchise business is open to organised, determined, and ambitious sports and business individuals. With this opportunity you will become part of the We Make Footballers family and join one of the leading football academies in the country. Read Less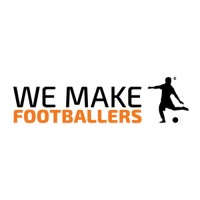 We Make Footballers Franchise Testimonials
Below is a selection of testimonials from people that operate the We Make Footballers Franchise or have used the We Make Footballers business services in the past.
Buying a We Make Footballers Franchise is by far the best business decision I've ever made. Essentially, you're buying a business in a box! WMF has been a step towards going full-time in football for me, not only through the income generated with the business but it has also opened up other opportunities and avenues for me in football and professional clubs. I now also work with Crystal Palace. WMF creates pathways for players, coaches and franchise owners like myself!
I extensively research We Make Footballers and found that they certainly met the vast majority of the key indicators that I was looking for in a coaching franchise. As WMF's first presence in the North West, I found the setup process straight forward despite the distances involved and we maintained a high-level of communication. Personally, I am delighted to be able to help children develop in both their football and social life-skills as they "enjoy their sessions!
We Make Footballers was my first ever coaching job, which turned into a full-time career for me as a Franchisee. I have seen the impact I have had on the company and how important I have been made to feel. It's rewarding to work within a business where you are so valued and where you have a positive effect in football everyday. WMF have made this a great opportunity to own and ensure every franchisee feels welcome and cared for.