KoKoDoo is a long-established, family owned and award-winning Korean Fried Chicken brand. Deliver with the top delivery partners from your Delivery-only Kitchen, take your Food Truck to bustling events and festivals or operate your own Quick-Service Restaurant - this versatile franchise offers... Read More
KoKoDoo is a long-established, family owned and award-winning Korean Fried Chicken brand. Deliver with the top delivery partners from your Delivery-only Kitchen, take your Food Truck to bustling events and festivals or operate your own Quick-Service Restaurant - this versatile franchise offers various models to suit your needs and desires. Read Less
Award-winning, family owned and versatile Korean fried chicken concept.
Whether you want the flexibility of a KoKoDoo Food Truck, a low-cost Delivery-only Kitchen or a fixed site permanent location on the high street, we have a model for you.
KoKoDoo was founded by Joseph and Mary Yoon who initially launched a Korean restaurant in 2006 and quickly grew to open two take-away shops. Our experienced head chef and owner takes her inspiration from her Korean background and professional knowledge in Japanese food, as well as her skills as a qualified Le Cordon Bleu chef.
KoKoDoo has quickly become the most popular food truck wherever we go and has been named as the top seller at StreetDots where more than 100 traders are registered.
We won the Judge's vote in the 2019 British Street Food Awards when we were Michelin-starred chef Rupert Rowley's top choice and he was blown away by our signature dish – our Real KFC (Korean Fried Chicken)!

THE OPPORTUNITY
You do not have to be a trained chef or have experience in management or food. You will receive everything you need to set up your business when you become a KoKoDoo franchisee, including training and ongoing support.
With a wide range of options on the menu there is something for everyone from vegans to meat lovers, served with a choice of rice, chips or salad and some tempting sides. The success keeps coming – we want to share our business with franchisees across the UK so everyone can have a taste of our award-winning Korean cuisine.
The KoKoDoo Franchise is flexible and affordable for any budding entrepreneur, whether you want to run your business full-time or part-time with the support of the experienced head office team.
We have three business models available, so you have the choice of what you offer customers.
What you get:
The rights to use the established brand and business model
Finance is available for 100% of the Franchise Fees
A defined territory in your chosen area
Full assistance in identifying and negotiating sites for Delivery-only Kitchen, street food or fixed locations
Turnkey KoKoDoo truck or fixed site
Further training in your area
Pre-launch, ongoing marketing and operational support
Support with purchasing of equipment and stock
Daily operational support telephone line
Access to nominated suppliers
Centralised sales and marketing / PR support
Management reporting tools for you and your staff
One-to-one business coaching and planning
Regular on-site business mentoring and support visits from Franchisor Support Team
Menu recipe creative and development
... AND SO MUCH MORE!
THE BUSINESS MODELS
---
Delivery-only Kitchen
Launch your delivery-only KoKoDoo Delivery-only Kitchen to serve a local residential population. Your kitchen will be fully fitted in a delivery only kitchen facility with preferential rates with delivery partners such as Deliveroo and Uber Eats.
Franchise fee: £15,000
Package fee: Starts at £15,000 – £20,000*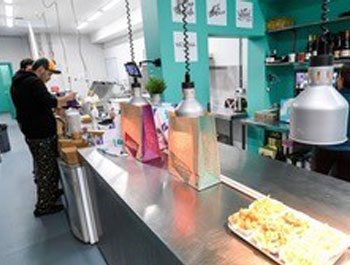 ---
Food Truck Model
Take your KoKoDoo Truck to events, festivals, markets and office complexes. Your truck will be fully fitted with everything you need to serve delicious and crowd-pleasing Korean street food to your customers.
Franchise fee: £17,500
Package fee: Starts at £35,000*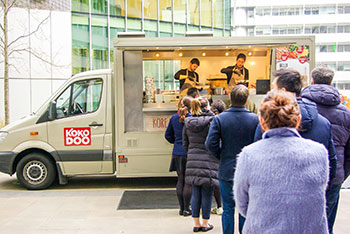 ---
The KoKoDoo Takeaway
Open a KoKoDoo Takeaway on your local high-street or retail park and see the crowds gather. You will be running your own shop that offers takeaway Korean street food and cuisine, as well as a small seating area for those wanting to eat-in.
Franchise fee: £20,000
Package fee: Starts at £100,000*
---
*These figures are estimates of the complete investment in setting up your KoKoDoo Dark Delivery Kitchen/Food Truck/Quick-Service Restaurant and operating it for three months. Government led funding is available for 100% of the Franchise Fees.
"KoKodoo was at our company party, I have spoken to several members of staff and the meal was very much enjoyed by everyone, very tasty! A lot commented on the freshness and it being full of flavour. The staff delivered a quick, efficient & friendly service. Many thanks for helping us achieve an excellent day!" – Heidi L
WHO WE ARE LOOKING FOR
We look for franchisees who see the value in the brand and systems of KoKoDoo and who are capable of running a business. You must have:
Customer service skills
A love for good food
A positive attitude
Ambition and drive
THE NEXT STEPS
If you think the KoKoDoo Franchise may be for you, fill in your details and we will send you more information – including a free and comprehensive franchise prospectus. Enquire whilst territories last!