Thomas Cleaning find all your customers and find all your staff – and they're the only franchise in the UK doing this.
Thomas Cleaning is an extremely exciting franchise opportunity for anyone who wants to grow a super successful business. Here's a few reasons why:
We find your customers
We find your staff
We answer your phones
We answer your emails
We use our 26 years' experience in the cleaning industry to make the running of your business as smooth as possible, by taking some of the bigger jobs 'in house' and allowing our experienced experts do them for you.
We're a management style franchise that is based on excellent processes and automation, making your life a lot easier. This coupled with our fantastic marketing has resulted us in being the fastest growing cleaning franchise in the UK.
We clean domestic homes, commercial properties, carpets, upholstery and more – daily, weekly or monthly. We have lots of revenue streams and lots of lovely customers, who we return to week after week, month after month, year after year.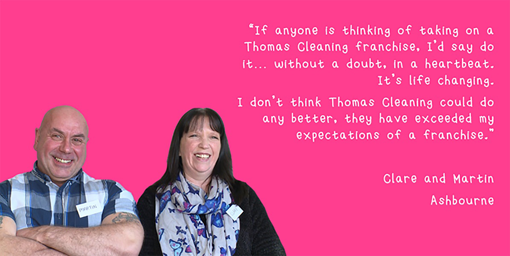 Training and Support
A huge chunk of our efforts are spent in making sure our franchisees have all the training and support they need.
Whether it's our online vault full of materials and training videos, our call centre, marketing department or support manager who visits every month, we've got everything covered.
We run masterclasses on different aspects of the business and we have mastermind groups.

Who makes a great franchisee?
We're very selective who we allow to join our network. We're primarily looking for someone who wants to manage the business, rather than become a cleaner.
You'll need to follow the systems in place which ensure a fantastic business and be a 'people person' who is passionate about growing a successful business.
How much can you earn?
With our marketing and support you can achieve a turnover of £120,000 in year 1, £250,000 in year two and there's a clear path to achieving £1 million by year five.
This depends on you, how much you invest into marketing and follow our proven plan.
Over 26 years, the business has become an 'equation' – meaning the more money you put in, the more money you'll get out. Because we find your customers for you, it's just a case of investing your marketing spend, which will result in a greater return.
Because we find your customers, we guarantee with 100% certainty we'll find you the number of customers you want.
Knowing that 100% of your marketing spend will work is a luxury very few businesses have, and it's one all Thomas Cleaning franchisees have, with to our 100% cast-iron guarantee. So how much you earn is entirely your choice.
If you're interested in finding out more about Thomas Cleaning, then the best thing to do is fill out the form below to receive our online information pack.