Owning a TruGreen Franchise represents a year-long business where you will provide tailored lawn care treatments to your customers and encompass a host of management activities that go with building up a multi-van business. There's huge scope to expand your franchise with the potential to run a... Read More
Owning a TruGreen Franchise represents a year-long business where you will provide tailored lawn care treatments to your customers and encompass a host of management activities that go with building up a multi-van business. There's huge scope to expand your franchise with the potential to run a fleet of branded vehicles to deliver lawn care services in your local area. Read Less
Why not reduce the risks of setting up in business by yourself, by investing in a TruGreen franchise and get the added benefits of a healthier, outdoor life and a business support package that's second to none!
A TruGreen Professional Lawn Care franchise offers a fantastic business opportunity and is ideal for self-motivated individuals wishing to develop and manage their own lawn care business. The lawn care market is growing and has over 26 million homes in the UK, 90% of which have gardens, making it a growth market worth becoming a part of!
About TruGreen
TruGreen is a year-long business opportunity, which involves providing tailored lawn care treatments to customers in your local area. Treatments will vary from lawn to lawn but will include scarifying, aerating, weed and feed, moss / algae clearing from pathways, patios and driveways plus a wide variety of garden clearing and tidy-up activities. When you're not providing lawn care treatments, you will be marketing your business, liaising with your customers and training and recruiting staff to provide your lawn care services.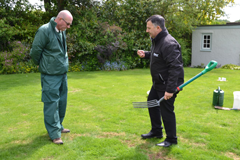 There's huge scope to expand your business with the potential to run a fleet of branded vehicles. By servicing just 4% of the homes in your territory, you could build up a lucrative lawn care business with a fleet of up to 10 branded vehicles.
Why TruGreen?
In addition to the attraction of a growth market and proven business model, you will benefit from unparalleled training and on-going support from TruGreen's support team. This starts with an initial comprehensive training course prior to trading.
You will be provided with extensive technical and business training, marketing advice and information on how to acquire and retain customers. You will also become qualified for pesticide application from the National Proficiency Council (NPCT).
In addition to the support from TruGreen's franchisor, ServiceMaster, who have more than 60 years franchising experience, you will benefit from on-going support from your Network Brand Manager, Steve Welch, who has more than 40 years' experience in the turf industry.
So, if you're determined, positive, can follow a system, a good communicator and have an ambition to grow and develop your lawn care business, we would love to hear from you!
For further information on the TruGreen franchise, contact us today!
---
OK, so we'll start at the beginning…
If you can answer "YES" to any of the following questions, then you've come to the right place!
Have you decided that you want your own business but are not sure what kind of business that will be?
Are you facing redundancy and are considering your next options?
Are you thinking about a career move and want to explore an investment into your own future?
Have you always dreamed of owning your own business but are just not sure if you have all the necessary skills?
Owning a TruGreen lawncare franchise represents a year-long business opportunity where you will provide tailored lawn care treatments to your customers and encompass a host of management activities that go with building up a multi-van business. This is the place the find out more about franchising and what owning a TruGreen franchise involves.
There's huge scope to expand your franchise with the potential to run a fleet of branded vehicles to deliver lawn care services in your local area.
At TruGreen, we make sure that you never feel that you're on your own. We're here to support and guide you every step of the way along your franchising journey. Even if you're not 100% sure what franchising is all about, we're here to help. With over 50 years' experience within the franchising industry, you can be sure of a support structure that understands you and your ambitions.