We are looking for passionate like-minded individuals who want to make a difference in football. We Make Footballers offer you the opportunity to help children of all abilities become the best footballers they can be. Our franchise business is open to organised, devoted, and open-minded sports and... Read More
We are looking for passionate like-minded individuals who want to make a difference in football. We Make Footballers offer you the opportunity to help children of all abilities become the best footballers they can be. Our franchise business is open to organised, devoted, and open-minded sports and business individuals. With this opportunity you will become part of the We Make Footballers family and join one of the leading football academies in the country. Each franchise has the ability to create memories for children as well as help develop local communities. Read Less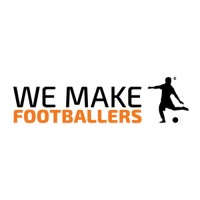 We Make Footballers is a unique football coaching franchise based in the UK. We have partnered with innovative companies to create a formidable business opportunity for enthusiastic individuals who want to run their own football coaching business.
The opportunity allows organised, devoted, and open-minded sports and business individuals the opportunity to own a franchise, for one of the leading football academies in the country. Each franchise has the ability to create memories for children as well as help develop local communities.
We Make Footballers has proven to be successful for the following types of individuals: sports enthusiasts with a passion for business, post-sports-grads as well as those looking to develop and progress their coaching ability.
With the help of our partnerships, WMF have been able to use innovative marketing solutions to help our franchisees fill their classes in the local area. We have been granted an exclusive UK license to a parent booking and reporting system to minimise administration for franchises as well as increasing re-enrolment by up to 86%.
The We Make Footballers franchise system and brand is recognised with:
Offering quality football coaching for all
Providing safe and fun environments
Strong support systems for franchisees
Exclusive booking software to manage your subscriptions.
Now is the time to claim your territory and begin building your football making business. Spend every day doing something you are passionate about!