Finance Available
Acacia Homecare Franchise
Care Franchise
Our vision is simple: we just want to be there to help you do the things that you want to do. Our mission is to grow responsibly to become the best provider of care to the private sector by offering high quality care from a mature, well trained, experienced, and happy team.
Financing Assistance
Yes, through a third party
Available Locations
Throughout England
Provide Essential Services & Grow Your Business
Run a care business how it should be run, not how it once was. Husband and wife team, Minal and Sanj Chowdhri, ripped up the playbook of how domiciliary care businesses had been run since the days of local authority commissioning, and revolutionised the organisation structure and business process to benefit from the ever-increasing private sector. Be part of this enhanced business model, and benefit from a better way of managing your own business.

Our current franchisees will testify that our franchise model works and is realistic. Acacia Homecare follows a unique organizational structure and uses a care system that has been built in partnership to satisfy the needs of the business, which benefits the entire franchise network. We have a very collaborative approach and the franchise network works together as a team.

"Having met Sanj and Minal, I felt that we shared the same values and vision. There is flexibility around owning the franchise as well as room for business growth. I feel there is ample support and having built a natural relationship, I am looking forward to collaborating with the Acacia team as well as putting my foot into the care sector."
Vicky Kondal, owner of Acacia Homecare Berkshire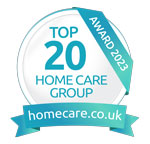 By becoming an Acacia Homecare franchise, you are not on your own and you have access to a wealth of knowledge and tools to help you succeed in your business. The training is provided directly by the founders of the business; tailored for each individual franchisee on a one to one basis.
Acacia Homecare have been recognised as one of the Top 20 Home Care Groups in the UK in 2023, based on reviews from service users/clients and their family/friends. Top 20 Large & Mid-size Home Care Groups category. Read More Here.
Rising Demand
With growing demand from an ageing population and increased focus on support for people suffering from learning disabilities and mental health conditions - coupled with more people wishing to remain at home - the retreat of local authority funding turns small opportunities into a growing need, ready for those with the right care concept and business mindset to step into the gap.
The total value of the UK care industry is £51.5 billion
950,000+ people are receiving domiciliary care in the UK
£7 billion is spent on domiciliary care alone in the UK*

The Acacia Homecare Franchise Package
The Acacia Homecare franchise fee is £22,950 + VAT, however, if you have at least £15,000 in available liquid capital, financing can be secured via many of the high street banks (subject to approval). Alternatively, you may qualify for the Government backed Business Start-Up Scheme which allows you to borrow up to £25,000 without investing any money of your own. (This figure doubles if the business has two Directors.)
The Acacia Homecare franchise package includes:
An exclusive franchise territory
Sales and marketing support, including a marketing literature pack
Professional guidance to secure financing, if needed
Ongoing support, training and development package
Assistance with staff recruitment and training
The Acacia Homecare management system
Support with CQC accreditation
Assistance with premises
Collaborative business operational support, with regular business review meetings
Professional business planning
Micro website for your business details
Setup of your own social media pages on Facebook, Twitter and LinkedIn

"I knew that I wanted a franchise, but more so that I needed a brand and franchisor that shared my ethics, morals and drive and that's when I met Acacia Homecare... since then I have welcomed the continued support in growing my business."
Amy Stone, owner of Acacia Homecare Stockport and Manchester
Training and Support Provided
By becoming an Acacia Homecare franchise, you are not on your own. and you have access to a wealth of knowledge and tools to help you succeed in your business. The training is provided directly by the founders of the business; tailored for each individual franchisee on a one to one basis. As well as guidance on the initial set up, our training and support programme is ongoing; provided as and when needed through face to face meetings and digital sessions.

There is no end date for training and various support groups have been set up by the franchisor for franchisees to regularly attend.
Ongoing training encompasses a wide range of topics, from the mechanics of running a franchise, to marketing, recruitment, IT, accounting and administration.
Acacia Homecare has developed its own support, training and development package which is delivered by the team that not only wrote it, but also experienced and developed it from the start of the business.
The delivery methods vary, featuring a combination of classroom training, e-learning, workshops and practical experience with other professionals.
Become Part of The Acacia Family
We work as a team and like to regularly collaborate with all of our Acacia Homecare network members. There will be opportunities to meet with the network for mutual support and the sharing of experiences, encouraging you to succeed at providing the best care possible while developing your business.

Becoming an Acacia Homecare franchisee means you are part of a strong family; we collaborate with each other, and communication is a key part to how our business succeeds.
If you would like to find out more about owning an Acacia Homecare Franchise, get in touch with us today!
*skillsforcare - Adult Social Care Workforce Data The state of the adult social care sector and workforce 2022 and Economic value of the adult social care sector
*homecare - home care facts and stats number of providers service users workforce
Get Your Free Information Today!
To contact Acacia Homecare for more information regarding their Franchise and speak to them directly with any questions you have, please complete the form below.