Finance Available
The Eggless Cake Shop Franchise
Bakery Franchise
Eggless Cake Shop is a network of wonderfully bright, welcoming, modern cake stores selling a huge range of irresistible sweet treats. We specialise in vegetarian and egg-free cakes. Vegan and gluten-free options are available for customers, who can choose from a wide variety of ... Read More exceptional choices such as vegan cakes, cupcakes, muffins, gluten-free cakes, cheesecakes and many other baked goods. Read Less
Financing Assistance
Yes, through a third party
Available Locations
Throughout the UK
Stop dreaming about that future you've always wanted, and start living it.
With the Eggless Cake Shop all you need is a passion for great service, and a love for sharing delicious treats! No baking experience is necessary!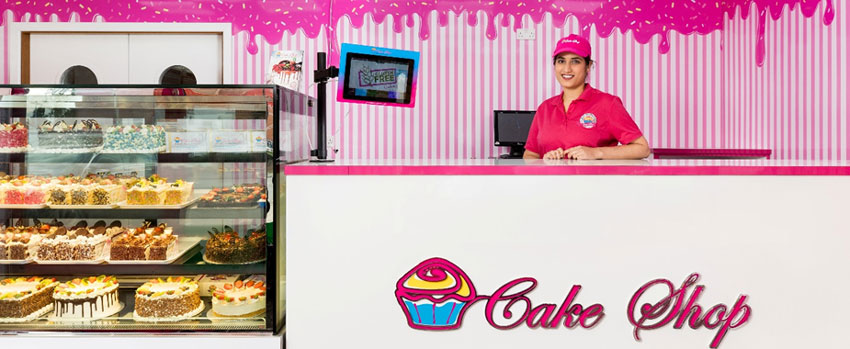 This franchise is so much more than just owning a successful retail outlet. It's about becoming a friendly face at the heart of your local community, bringing joy and happiness to everyone who walks through your door. This franchise is all about helping you to open your own exciting, thriving business with great earning potential, and make people smile for a living while you're at it.
It comes with these major benefits:
A complete turn-key package which will get you up and running in no time
An exceptional business model which is already operating in dozens of locations around the UK
Full training & support provided by an expert team who know everything about the industry
Low set-up costs, and low overheads, to help you maximise your profits
Help finding the perfect location for your store, and help getting it ready for business
An Eggless Cake Shop franchise is your opportunity to tap into a huge market which is still not properly served in most towns and cities around the country.
Already run a cake shop and looking for a way to take it to the next level?

Let's work together!
We can help you offer something different which will make you and your shop really stand out from the crowd. As long as your shop is large enough, and in a suitable location, we would be more than happy to discuss redeveloping your location into a new and promising franchise with huge potential for growth.
Is there an Ideal Eggless Cake Shop Franchisee?
Successful Eggless Cake Shop franchisees come in all shapes and sizes, and there's no one single recipe for who makes for a successful partner.
The MOST important thing to understand is that you do not need to be an experienced baker, or even know how to bake a cake at all. All of our cake bases are made for you and delivered fresh every morning. All you have to do is ice and decorate them, and our training will make you an expert.
It is, however, vitally important is that you have a passion for all things cake related, and a commitment to delivering fantastic customer service.
How will the Eggless Cake Shop train me?
You will be enrolled on our comprehensive training programme, which will consist of three parts:
Hands-on Shop Training
Business Management Course
Completion Training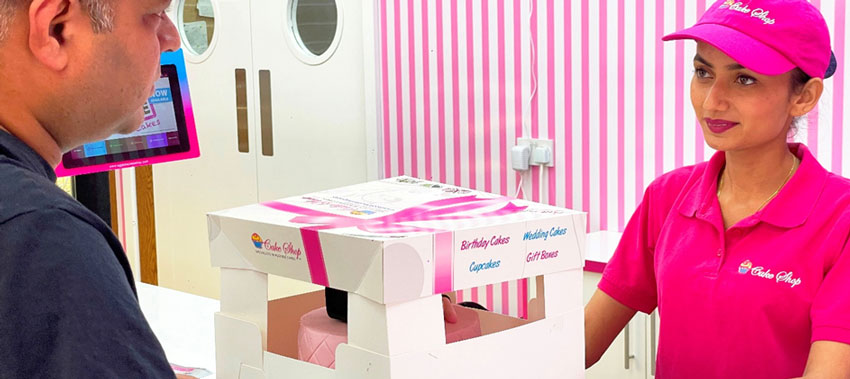 PLUS our ongoing support includes:
Professional launch package including PR and Marketing
Ongoing marketing
Dedicated franchise manager
Regular visits and meet ups
Daily reporting
Access to any recommended or optional training
Comprehensive operation manuals
Regular access to new products
AND just being part of a wider network where you can share ideas and work together to overcome any challenges all goes towards your success with us.
What's my investment?
The franchise fee is just £10,000 (plus VAT), but with a deposit of just £5,000 we can get started. The balance (plus VAT) of the franchise fee must be paid upon signature of the Franchise Agreement.
There are a number of other costs to consider, such as leasing and outfitting your site, business insurance, legal fees etc. These costs will vary from location to location, but we have prepared a detailed breakdown based on our current outlets which we are happy to discuss further with you.
The initial franchise agreement lasts for five years, which is renewable subject to certain criteria being met by the franchisee and in agreement with the franchisor.

Funding the dream…
Franchising is one of the safest and most secure ways of starting your own business, so many lenders are much more inclined to lend you money against your investment. There are also government funded loans which could be available; we would be happy to point you in the right direction for more information.
You will need to make sure you have enough working capital available to you to cover hiring staff, purchasing supplies and day-to-day costs while you build up your business, but we are on hand to help you assess these costs as part of your business planning should you decide to join us.
What's my earning potential?
An Eggless Cake Shop franchise has great potential for bringing you a rapid and substantial return on your investment thanks to its low start-up costs, and low operational overheads. Many of our franchisees enjoy a profit margin of between 22% and 26%.
Obviously exactly how much you can expect to earn from your franchise will vary a great deal, based on a variety of factors such as location and the local market. But, based upon our experience to date, a well-performing shop can expect to enjoy operating profits between £45 – £65,000 by the end of Year One*.
*These figures are for illustration purposes only. Once you have signed a non-disclosure agreement, we will be able to share more in-depth financial data from our current operations and help you more accurately assess the earning potential of your proposed location.

What's my next step?
Get in touch. We are more than happy to talk about what we do, and how we can help you to build your own successful and rewarding business.
Get Your Free Information Today!
To contact The Eggless Cake Shop for more information regarding their Franchise and speak to them directly with any questions you have, please complete the form below.