Spend your days launching rockets and mixing up potions! Fun Science branches offer science themed birthday parties, workshops, holiday clubs and after school clubs for primary aged children. Our low investment opportunity gives you everything you need to start up your own successful Fun Science... Read More
Spend your days launching rockets and mixing up potions! Fun Science branches offer science themed birthday parties, workshops, holiday clubs and after school clubs for primary aged children. Our low investment opportunity gives you everything you need to start up your own successful Fun Science branch. Read Less
As a Fun Scientist your days may involve mixing up potions or launching rockets and even seasonal science experiments at Halloween and Christmas. Fun Science franchisees gain an incredible amount of satisfaction from seeing children growing to love science and developing a passion for investigation and experimenting.
Kids, parents and schools all love our tried and tested programmes which mix fun with learning with link to the national curriculum.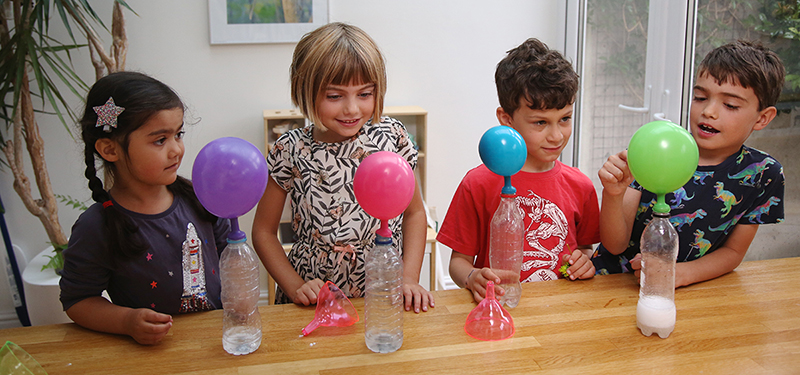 We have links with schools across the country as well as national organisations such as the British Science Association, iFly indoor skydiving centres and the Children's University.
The Opportunity
For just £9,995 you will receive the rights to run your own Fun Science branch plus an extensive start-up kit.
This provides you with everything you need to get started running action packed science assemblies, workshops, clubs and parties.
As well as this start-up kit you will be provided with:
Your own exclusive area with 50,000 children aged 5-11
An @fun-science.org.uk email address
Space on our SEO optimised website
Social media accounts and advice on getting the most out of them
Full uniform including lab coat
Marketing start up pack
Access to over 1000 downloadable resources including promotional videos, high resolution images, risk assessments, over 250 practical lesson plans, editable marketing materials
A launch event in your local area
Full training on service-specific marketing, risk assessment, child protection, using the booking system and more
Use of our booking system which makes taking bookings a breeze and significantly reduces the time spent on taking bookings
Instant accreditation by the Children's University
Business coaching to help you to set and achieve your goals
We will continue to support your business with regular website updates, national advertising campaigns, local advertising in your area and access to downloadable resources including lesson plans, risk assessments, worksheets and contracts.
You will also be given a copy of our manuals which detail every aspect of running your business from health and safety to employment. This leaves you free to focus on taking bookings, running sessions and making money!
Fun Science has many successful branches running across the UK from Dorset right up to Glasgow so you can be sure that your investment is in safe hands and that we can deliver what we promise to deliver.
Unlike other similar franchises we do not take a percentage of your turnover but instead our monthly maintenance fee is fixed at just £150 (rising to £250 in year 3), an amount you can make back with just one birthday party.
We also do not require you to buy anything from us and give you access to all your marketing material files so that you can print these yourself or use a local printer if you choose to do so. We do have an online shop but you are not required to make use of this and can buy everything from your own suppliers.
A Fun Science branch running at half capacity (two birthday parties and two after school club sessions per week plus six weeks of holiday activities per year) could make a yearly gross profit of £33,295.65s.
What You Need
This opportunity is perfect for anyone looking for a flexible and rewarding career which is fun, exciting and profitable.
The majority of our sessions and parties last for 1 hour or less so fit easily around your lifestyle and other commitments. If you have children they will love working with you to test activities out and can even attend your holiday clubs and out of school workshops.
The perfect franchisee would be motivated, enthusiastic and have a genuine passion for working with children.
Scientific experience is not essential, as full training will be given in this area and we have qualified scientists on hand to answer any technical questions you may have.