Finance Available
Yiamas Franchise
Restaurant Franchise
'Yiamas!' is the Greek word for cheers, and the Yiamas Greek restaurant and gyros bar franchise concept is certainly a fast track to good times and great profits. Multiple franchise options include a full-service Greek Taverna, a takeaway Gyros Bar, Dark Kitchen for delivery ... Read More food and a Food Truck option. Read Less
Financing Assistance
Yes, through a third party
Available Locations
UK and Ireland
Welcome to the Yiamas franchise opportunity
'Yiamas!' is the Greek word for cheers, and the Yiamas Greek restaurant and gyros bar franchise concept is certainly a fast track to good times and great profits.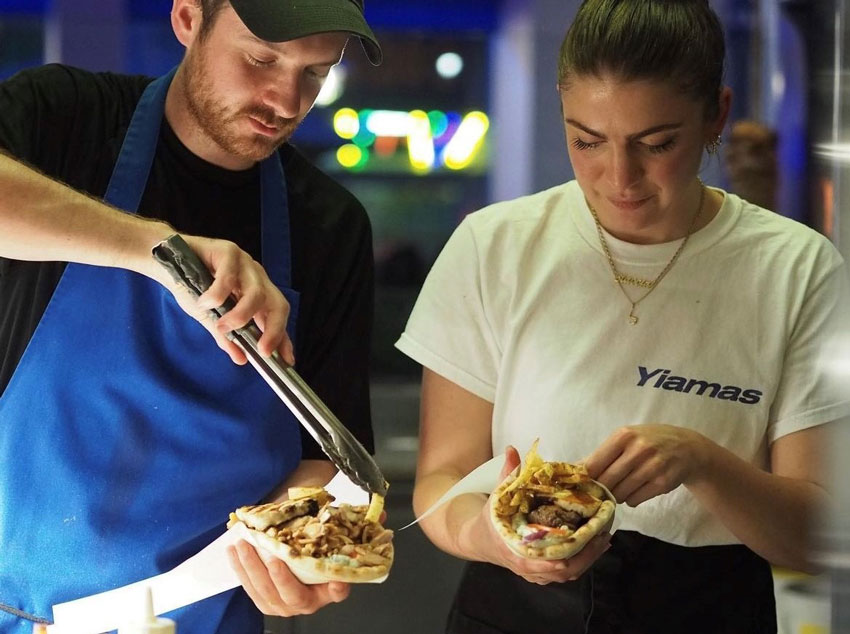 Yiamas is an award-winning Greek food franchise offering a full menu of franchise opportunities. Established in Glasgow in 2012, the company has gone from strength to strength, combining traditional Greek taverna dishes and gyros kebabs served in pita bread. We are now expanding throughout the UK with a range of franchise options: Full service Greek Taverna, takeaway Gyros Bar, Dark Kitchen for delivery food and a Food Truck option as well for fixed sites, markets and festivals.
Our business is family owned and run, and we look forward to welcoming franchisees to the Yiamas family.
The Yiamas franchise
Whether you are looking for your own fully licenced Greek Taverna (our flagship restaurant in Glasgow even has its own cocktail bar and events space on the first floor 'Yianni's Bar'); a quick serve takeaway; a 'Dark Kitchen' doing delivery only or even a food truck, there is a Yiamas option for you.
The franchise is fully scalable; start with one site and build to multiple units; the choice is yours. Further, our margins are high, and our overheads are comparatively low.
The Opportunity
You will own your own Yiamas restaurant or takeaway, serving up a storm for your customers in your chosen location. Both single unit and regional development options are available.
What's included:
Award-winning concept
Assistance with design and fit-out of your Yiamas premises,
Project management assistance
Latest restaurant management technology including EPOS and CCTV
Existing supply chain for ongoing supplies
Full training and on-going support
A start-up package including marketing materials and uniforms
Continued menu development
and so much more!

The Franchise Models
Single Unit Franchise
Restaurant
Takeaway Gyros Bar
Dark Kitchen
Food Truck
We will work with you to locate and negotiate a suitable site for any of our franchise options, whether it be a larger footprint Taverna, a smaller high street takeaway Gyros Bar or a Delivery Kitchen; we will be by your side each step of the way.
The Investment
We have various franchise models you can choose from, and our Single Unit Franchise fee starts at £17,500. The cost of fitting out your franchise will be dependent on size and condition but will range from an additional £50,000 to £75,000.
Funding is available from a range of banks, including the British Business Bank.

Who are we looking for?
You needn't be an experienced restaurateur or come from the catering or hospitality sectors. You must, however, have a passion for food and, most of all, be a people person. We will provide full training to own and operate your own Greek food business, irrespective of the franchise model you choose.
Next Steps
If you think you would be the perfect fit for a Yiamas Franchise, then fill in your details below, and we will send you more information, including a free and comprehensive Franchise Prospectus. Yiamas!
Get Your Free Information Today!
To contact Yiamas for more information regarding their Franchise and speak to them directly with any questions you have, please complete the form below.