About Right at Home
Right at Home provides premium quality care and companionship. Our business owners are committed to delivering the level of service we would want our own family to receive if they ever needed support to continue living independently in their own homes.
Our model is based on longer visit times from consistent and carefully matched CareGivers. Our core market is private, self-funded Clients. Our commitment is to increasing our Clients' independence and improving their quality of life.
Right at Home UK is currently the most highly recommended national care agency in the UK on the leading independent review website and winner of Best Management Franchise for the 3rd consecutive year.
Combine our award-winning franchise model with your management acumen, to join a caring community of business owners:

We care about delivering the tailored support you would want for your own family
We care about protecting our Client's independence and dignity in their own home
We care about giving back to our local communities and together, are building more than just a business.
We care about sustained growth and are committed to our shared vision to be the best home care provider in the UK.
We care about supporting one another and helping each other to achieve the goal of successful businesses right across the UK.
Our business owners
Our franchisees build more than just a business, they build a local team, who are dedicated to making a difference, and are prepared to go the extra mile in care.
95% of Right at Home business owners had no prior professional care sector experience before they joined us. Coming from a variety of career backgrounds, they were attracted by the prospect of building a business which has a highly positive impact on their local community, based on the Right at Home model which has proven success.
By accepting only the best candidates, we are successfully building a highly-engaged network of like-minded and mutually supportive business owners. Each committed to a desire to offer exceptional quality care in their local community.
5 reasons to choose us
With over 6.5 million senior citizens requiring quality care, alongside the millions of young adults living with life-limiting illnesses, homecare is a huge growth market.
Your opportunity with Right at Home has the potential for a high return on investments, and long-term sustainable profitability.
With the Right at Home franchise model, you are in control of your own business.
We have established a business which has proven to work, offering you the all-important support of a highly successful brand behind you.
With the care industry being a highly regulated sector, the experience and guidance of Right at Home is second-to-none.
We help you keep abreast of legislation, allowing you to focus on maintaining an excellent record of compliance. The fact we are the only brand with a 100% "good" or "outstanding" rating from the Care Quality Commission speaks for itself.
With Right at Home, you are not alone as you build your business.
We are honest about the challenges, as well as the rewards of this sector, and do our best to ensure potential franchise owners are well-equipped before you open for business.
With our knowledge and experience, we make sure you know you are valued, as you value your Clients.
We do all we can, including building a system designed for our business model, to support you to achieve success.
Backed by success for success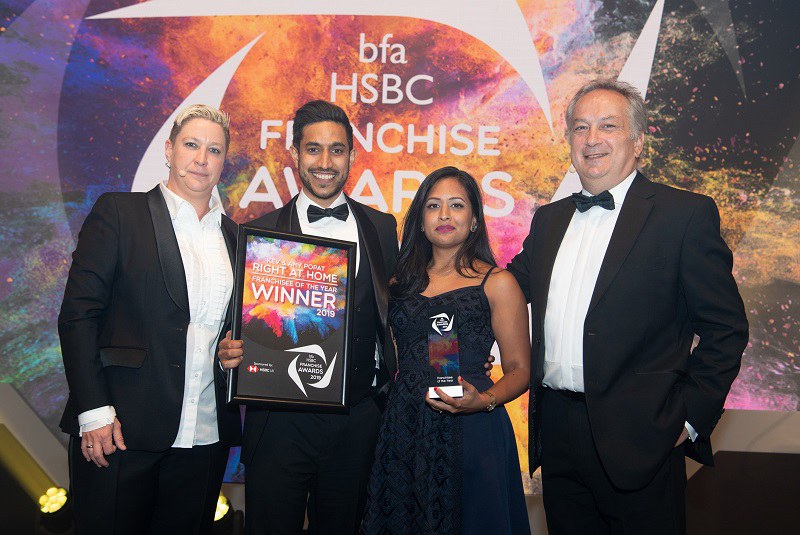 After eight years of carefully controlled growth, Right at Home UK has more than 60 UK franchises and is recognised as a premium quality brand, with franchisees Kev and Amy Popat current holders of the bfa Overall Franchisee of the Year Award.
Industry recognition and multiple awards – on both a national and localised level – are evidence of the strength of our systems and franchisee support, as well as for the quality of our care services.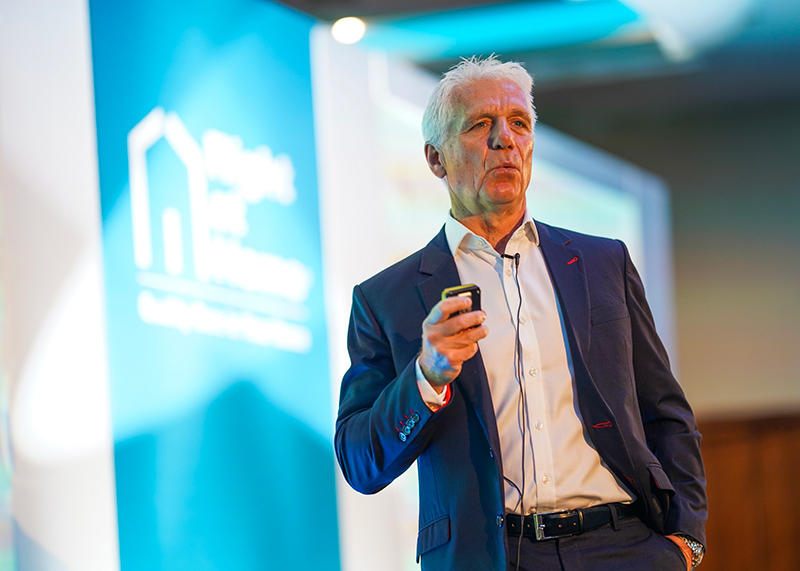 Right at Home benefits from the expertise and knowledge of a CEO who has had extensive success and experience in franchising. Ken Deary was the first franchisee to win the British Franchise Association 'Franchisee of the Year' Award for McDonald's. He also won the McDonald's Golden Arches award, given to the 30 most successful franchisees, globally.
Ken's priority is to build an ethical franchise with a culture and values that focus on creating success by being the very best at what we do - delivering the best care to our clients and the best systems and support to our franchisees.
Ready to start your own success story?
Contact us by completing the form below for more information.