Unlike many domiciliary care companies in the UK, Blossom Home Care is a highly profitable multi-award-winning, British owed company offering a high-quality service and good client experience. The geographical area covered by carers is designed to minimise travelling time, where possible so that... Read More
Unlike many domiciliary care companies in the UK, Blossom Home Care is a highly profitable multi-award-winning, British owed company offering a high-quality service and good client experience. The geographical area covered by carers is designed to minimise travelling time, where possible so that more time can be spent with clients. A minimum visit time of 50-minutes further reduces mileage and the number of carers needed to deliver the care, which means that fewer clients are required to show a significant number of care hours delivered each week. This leads to lower overall costs, which helps increase profitability to a level not usually found in domiciliary home care.

If you'd like to be part of an award-winning brand delivering bloomin' good care to the elderly and other adults with home care needs, get in touch today. Read Less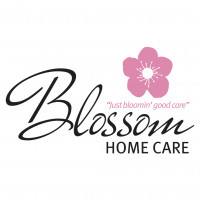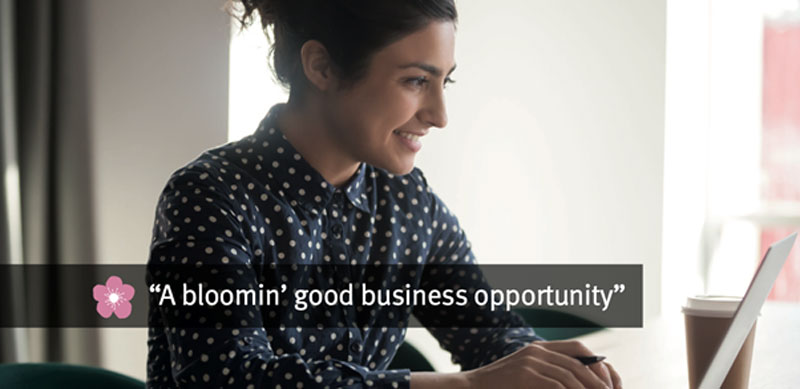 Blossom Home Care Franchising Ltd is co-owned and co-directed by the founders of Blossom Home Care Ltd, husband and wife, John and Fiona Leggott. With John's business skills and Fiona's wealth of nursing and social care knowledge and skills they developed a company that created a good client experience by delivering the best standard of high-quality home care. The sort of care they would be happy for their own parents or relatives to experience.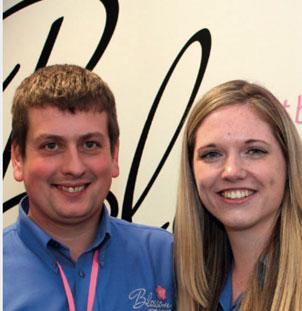 After opening the head office in Northallerton and then a second office in Tadcaster John and Fiona had a vision, to roll out their business model nationally so that everyone could experience the exceptional care delivered by Blossom Home Care.
Fiona has received recognition for her work within the social care sector and won the prestigious, lifetime achievement, Great British Care Awards, Regional Winner 2019, North East Award 'Outstanding Contribution to Social Care'.
Blossom Home Care have also been recognised with the following awards:
'Home Care Team' at the Yorkshire and Humberside regional Great British Care Awards in 2016
Runner up at the Great British Care Awards National Finals 2017, for the Home Care Team Award
2017 'Best Customer Service' award at the Hambleton Business Awards.
'Palliative Care Team' Award at the North East, Regional, Great British Care Awards in 2019
A Commendation for their 'Palliative care team' in the 2020 National Great British Care Awards
Blossom are offering all their expertise and know-how to franchisees who want to succeed in the domiciliary care industry.
Franchise Overview
Buying a Blossom Home Care Franchise means you're investing in an established brand, systems and processes and a dedicated and knowledgeable support team. You can build your own business in domiciliary care while benefiting from Blossom's experience of perfecting the delivery of high-quality home care into this niche market. You'll also benefit from Blossom's robust systems and in-depth training programme, be given an exclusive area, constant support from a dedicated franchise support team and the opportunity to develop a profitable and enjoyable business caring for adults in their own homes.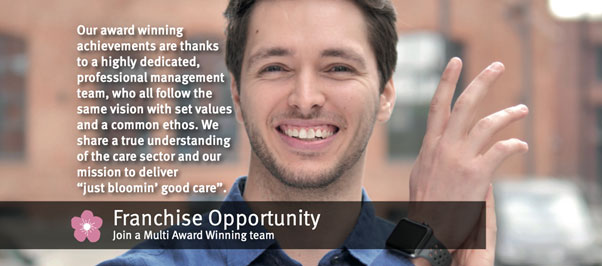 Blossom's award-winning achievements are thanks to a highly dedicated, professional management team, who all follow the same vision with set values and a common ethos. They share a true understanding of the care sector with their mission to deliver "just bloomin' good care". This expertise is part of the Franchise package, as is all the knowledge and experience that John, Fiona and the team have taken years to perfect.
Furthermore, because the business model has been created for franchising, the Directors have purposely run the offices remotely, without day-to-day involvement, to ensure the model can roll out successfully. Meaning the system is tried and tested and can offer a work-life balance.
Blossom Home Care Franchising Ltd. will award Franchises in protected territories defined by post-codes. These territories, developed by a professional franchise territory mapping company, are based on the model established from the original offices, and which the new franchised offices have successfully replicated. Each territory has been mapped based on a population density of 100,000 people over 65, ensuring that each Franchisee has an equal opportunity. These territories are among the largest demographic areas to be offered in the home care franchise industry.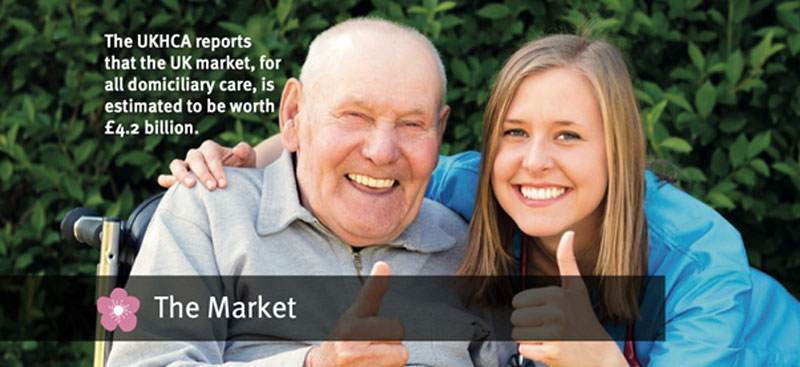 The Market
It is thought likely that the demand for home care services will remain robust, increasing in line with population changes. The Lancet reported that the number of people aged 65 plus and classed as 'high dependency' will rise by almost 200,000 by 2035. The social care industry is also expected to grow, both in real terms, as the population ages, and as a proportion of the total services delivered due to changes in eligibility criteria for state-funded care and a greater awareness of the role of home care as the preferred alternative to residential care.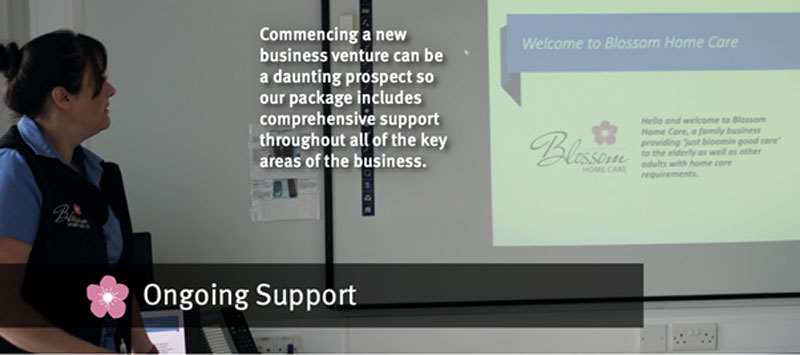 On-going Support
From setting up your new company and office to CQC registration to gaining employees and services and then starting to deliver care- we will guide you every step of the way.
All Franchisees will pay a Franchise Package Fee to acquire the Franchise, and an ongoing Management Service Fee (MSF), as a percentage of gross revenue, in return for ongoing help and support, which includes:
Franchisee Manual to have on hand and assist with all aspects of running your Blossom Office
Dedicated franchise manager who is on hand 24 hours a day, 7 days a week, to provide support and guidance, conduct monthly franchisee webinar's, conduct monthly support visits for first 3 months then 3-monthly thereafter, undertake mock CQC inspections to provide constructive feedback
In-depth training in every aspect of owning and running a Blossom Home Care Franchise, extra provided when required.
Access to running a business, know-how and experience.
Access to business software, systems and processes, remotely accessible documents and cloud-based management systems with inbuilt invoicing system.
Access to aligned suppliers - Marketing, Training, Insurance and Software company.
Branded products - uniforms, bags, mugs, sweets, pens, notepads.
Access to professional collaboration, help and advice.
Use of the Franchisor's name and brand.
Continuing sales and marketing support including social media, website and email hosting.
Unlimited business and marketing support.
Regular contact with the Franchisor available at all times via phone or email.
The ability to influence policy and receive help if needed.
Being part of a group of professionals with advice and support readily available.
Constant Research & Development to ensure that all services are consistent with Blossom Home Care standards, in line with CQC standards and ahead of competitors.
Recruitment support and guidance, with monthly campaigns where all franchisees are encouraged to participate in.
Your Investment
Financing your new venture is important, considering if your franchisor is aligned with funding sources, ensure you get the help with your business plan and forecast for turnover, profit and cash-flow. Blossom Home Care can seamlessly guide you through this journey and, where required, can ensure funding is sought from an aligned high street bank that backs our franchise model.
The initial investment is £37,500 + VAT and you will need to have access to capital for personal and business expenses for the first three months.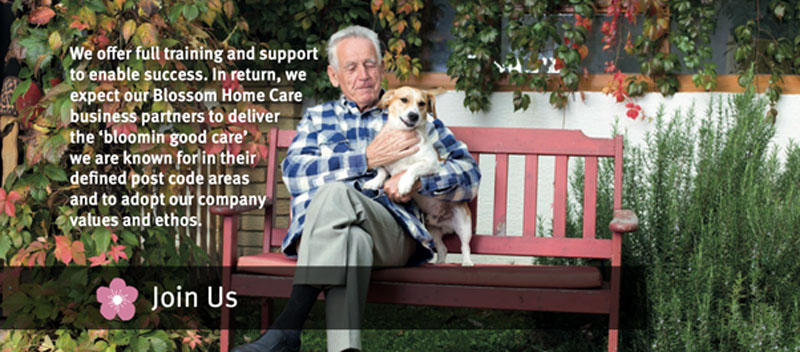 Our Business Partners
We expect our business partners to deliver the 'bloomin good care' we are known for in their defined post code areas and to adopt Blossom's company values and ethos. We are seeking like-minded individuals who will share a person-centred approach to business and care about employees and clients as much as we do. Franchisees will need to be able to demonstrate:
A passion for high standards of delivering care
An aptitude for business and an ability to make a success of their franchise business
An ability to replicate the Blossom Home Care concept
The ability to manage the office and lead a team of employees
A desire to run their Franchise in a professional and business-like manner, while being considerate and caring towards employees and clients
The ability to recruit, train and retain staff, market and sell all of the services, MDT working, undertake audits and quality assurance
Good communication skills, being open and honest and the ability to communicate at all levels
A desire to be part of something bigger and be proud to be part of the Blossom Brand and Family.
The Next Steps
Want to be part of a Multi-Award-Winning brand? Become a member of the Blossom family by owning your own Blossom business territory. Contact us today!