Coffee Blue is the UK's leading mobile coffee van franchise, providing barista-quality hot drinks and food to workplaces, offices, events and festivals across the country. Coffee Blue offers franchisees an award-winning van to serve our award-winning blend of coffee, and an unrivalled support... Read More
Coffee Blue is the UK's leading mobile coffee van franchise, providing barista-quality hot drinks and food to workplaces, offices, events and festivals across the country. Coffee Blue offers franchisees an award-winning van to serve our award-winning blend of coffee, and an unrivalled support network to help your Mondays feel less blue. Read Less
What is Coffee Blue?
Coffee Blue is the market leader in mobile coffee franchises. Our three decades of experience in catering and vehicle conversions has created, what we feel, the best mobile coffee van on the road. Our franchisees serve the highest quality barista coffee, along with a range of hot and cold drinks and snacks, to offices and workplaces across their territory. The business provides customers with a convenient service directly to their doorstep every single day.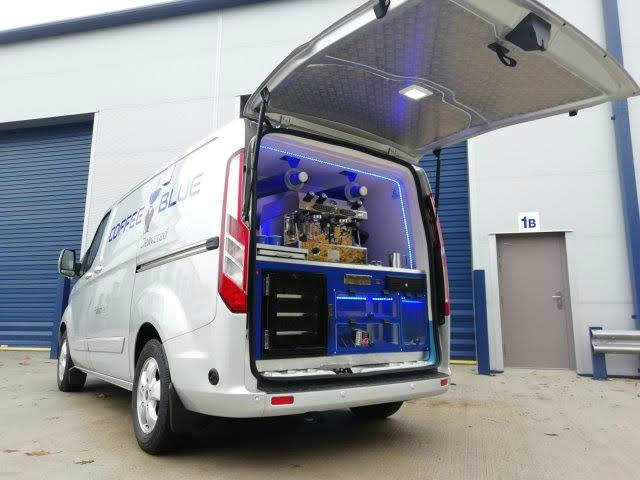 Coffee Blue's award-winning blend of coffee, state-of-the-art van and unrivalled support network gives you all the tools to make your business a success.
Our parent company Vantastec Limited has more than 30 years of experience in vehicle conversions and mobile catering. During this time, we have gathered extensive knowledge of temperature-controlled vehicle conversions – which is why our van is so ground-breaking.
How does it work?
Coffee Blue vans are converted in-house to the highest specifications. They provide ample storage space, are fully refrigerated and also incorporate our own manufactured holding ovens to keep food warm while also following hygiene regulations.
Each van is stocked to the brim with our very own award-winning coffee blend. Our coffee is grown in three separate continents from five different types of bean, which makes for a perfect espresso. The blend is a light to medium roast, full-bodied with wine-like undertones and low-acidity. Plus, it's even certified by the Rainforest Alliance, helping provide housing, education and medical support for families in areas where our coffee is grown.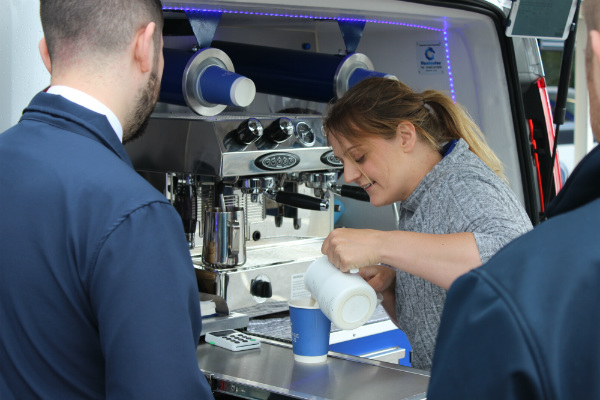 Training & Support Provided
Before launch, our franchisees receive an extensive eight week training programme that covers all bases of your new business.
Coffee Blue offer a two-week assisted launch, where our franchise development team spends time with you when you start to make sure everything goes smoothly. We'll even pay monthly visits to you in your territory to see how you're getting on.
In addition to our £16,950 +VAT "Barista" package, we are now offering two more packages titled "Coffee Blue Compact" and "Coffee Blue Catering" as more cost-effective options.
Barista Training
Part of this programme is our professional barista certificate. We'll give you up to eight days barista training so you can master the art making coffee. Here, you'll be trained up on how to get the perfect milk texture for different espresso-based drinks, how to fine-tune your machine for maximum flavour, and even tips for creating fun and eye-catching latte art.
NCASS Certification
You will be given a City & Guilds level three food hygiene qualification from the National Caterer's Association. The programme is the best online hygiene course available right now and will guide you on how to avoid a number of potential hazards within a catering environment. Such topics include general food hygiene, legislation, temperature control, waste disposal and more.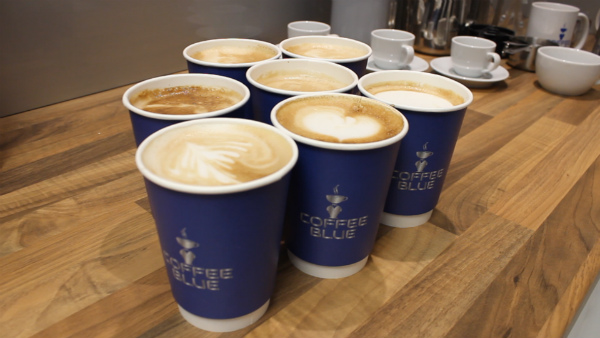 General Business Guidance
We'll give you in-depth guidance on how to turn selling food and coffee into a successful business.
One of the most important aspects of your training helps you identify quality hot and cold food suppliers. We'll help you scout reliable food suppliers with great prices. Our team will even guide you on the recommended retail prices of all the food and drinks you'll be selling. Plus we'll even help you set up your own electronic point of sale system to manage your accounts and all cash and card transactions.
Warranties
Each franchise package comes with a selection of warranties that covers all of your key equipment. Some of which include a Ford manufacturer's warranty for your van, a Fracino manufacturer's warranty which covers your coffee machine, and warranties for both your refrigeration system and holding oven.
Marketing
Finally, we'll also be giving an extensive support network when it comes to marketing. We'll set up your very own social media channels and email addresses, provide a thorough social media workshop to clue you up on the wonderful worlds of Facebook, Instagram and more, provide you with flyers, menus and other visual designs upon request, and we'll also promote your franchise to local press when you launch to get more eyes on your business.
The Ideal Coffee Blue Franchisee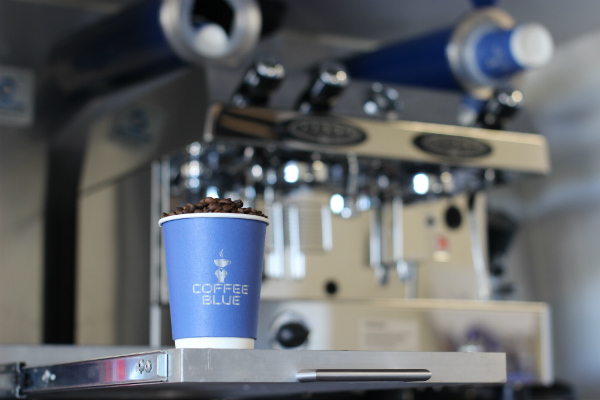 A coffee lover
Sociable
Motivated/Driven
Confident
Organised
Committed
Ambitious
Has good communication and interpersonal skills
Has good business sense
Coffee Blue's History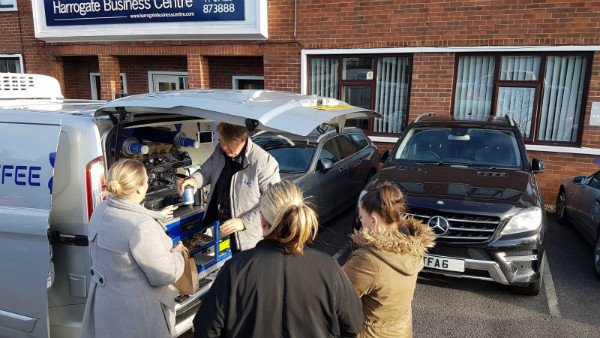 The beginning
Our journey started back in 2006 when Gareth and Colin founded Vantastec Limited. Vantastec is a one-stop-shop for all things vans and van conversions. From polyshielded crew and panel vans, to temperature-controlled vehicles, dog vans and even bespoke conversions.
What started as a project in a home office has grown into a nationally-recognised company, determined to innovate and change the light commercial vehicles sector for good. From their initial premises in Penallta, South Wales, they began working towards becoming the number one provider of refrigerated van conversions.
In 2013, the company moved into a larger, 28,000 square-foot unit in Ystrad Mynach. This is where their team of 50+ office and workshop staff are still hard at work.
Moving full steam ahead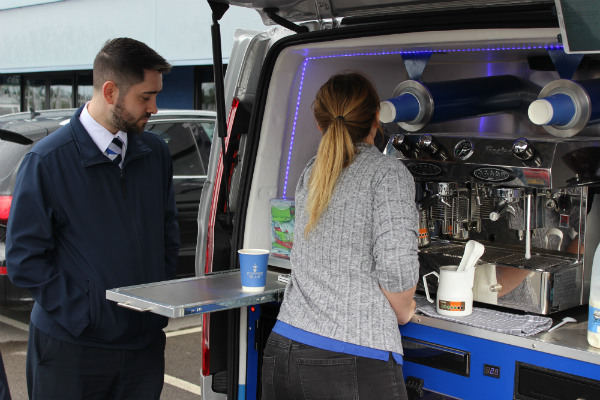 Three years later, at an Exhibitor's show in London, Gareth and Colin got their first taste of what the mobile coffee industry looked like – and instantly knew they could do better. Within 10 minutes of the ride home, a business plan was already written.
In September 2018, we officially launched our first franchise in Harrogate, North Yorkshire. Less than a year later, our 10th franchisee joined the team. So, it's safe to say Coffee Blue is moving full steam ahead.
Which brings us to where we are today. Our behind-the-scenes team has grown significantly, and we now have franchisees spread across the country delivering delicious coffee and food to their customers. What's next for us? Well, we have plenty of exciting stuff in the pipeline, and we'd love for you to be a part of it.