ServiceMaster Clean Commercial provide genuine money-making franchise opportunities to motivated and driven entrepreneurs in the ever-growing commercial services sector where good first impressions are paramount.
Our Mission
Over the last 60 years, we have helped many business owners to build a sustainable business from offering carpet and upholstery cleaning services to commercial properties who need to keep up appearances.
The Opportunity
There's no need to wonder if there's a market for our services as all commercial properties have carpets or hard floors and both types of floor covering are susceptible to the build-up of dirt and bacteria due to continued traffic in high footfall areas. Dirty upholstery, carpets, or hard floors don't give a good first impression – that's where ServiceMaster Clean Commercial can turn that predicament around.
Any sector, any carpet, hard floor or item of upholstery, no job is too big or too small for us. You'll provide expert carpet, hard floor and upholstery cleaning services on a one-off deep or part of a regular maintenance programme to ensure that appearances are kept to a high standard at all times for your clients.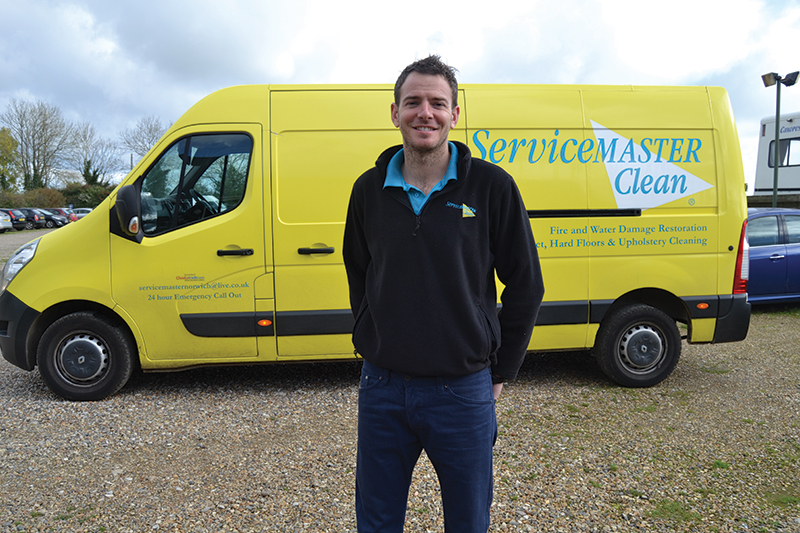 You name it, from waiting room chairs, to sports hall flooring and even the carpets of a cinema, you'll be able to expertly clean and sanitise it all in or outside of the business' operational hours.
The market potential is huge and waiting to be capitalised on through building strong relationships, delivering expert services, and providing unapparelled customer service to your clients so that they commit to regular maintenance programme and recommend your services to others.
Testimonial
"Each day we're excited and passionate about developing our business, not only for us but our team and customers. Our focus is solely on offering our customers the very best service."

Robbie & Sharon Taylor – ServiceMaster Clean Commercial Dorset
We will supply you with the tools and equipment, as well as train, guide and support you in your journey to help you towards business success.
This is a genuine money-making opportunity in the commercial sector to build a sustainable business with the unrivalled support of a world-renowned franchisor.
Next Steps
Interested in finding out more? Don't delay, contact us today for our next training academy dates and availability for a territory your area.