Welcome to the world of Banana Moon
Banana Moon Day Nursery offers a unique experience for children and parents, as well as the owners of this proven franchise.
The founders of Banana Moon Day Nursery believe that the fastest route to business success is franchising. However, the franchise must be tested, reliable and have the right franchisee in order for it to run successfully.
At Banana Moon, we know what to expect from a new owner, and we are able to offer the highest level of support.
Banana Moon Day Nursery Franchise
Banana Moon Day Nursery offers a unique experience for children and parents, as well as the owners of this proven franchise. The Banana Moon World is unique, helping children to find a place to grow their world and creating a wonderful experience for children, parents and owners alike.
At Banana Moon Day Nursery we focus on creating a loving and caring environment for children, with a strong focus on the views of parents. Our loving environment and sharing culture create a business that works, as well happy children. Both children and parents truly love our brand, which makes this nursery stand out above the rest.
At Banana Moon we care about the well-being of parents, and of children at home, as well as the safety and security of the nursery, so that we can help to improve the lives of families of children who attend our Nurseries. Potential franchisees now have the opportunity to own a successful franchise that is part of a strong brand and has a proven business model, and to know that they are providing a better life for generations to come.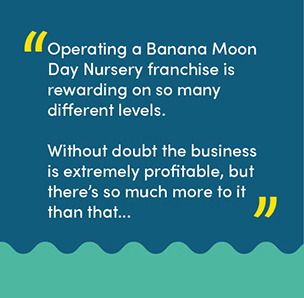 Franchise Pack
In exchange for your financial investment, we have put together a comprehensive franchise package that includes everything you need to get you into business as quickly as possible.
The new enhanced Franchise Package Fee is £47,500 + VAT, which includes:
Retained property search consultants to help you find premises.
Premises Planning Permission Application/ Change of Use Fees.
Full 45-place nursery equipment package (furniture, equipment, toys, books, games).
55-inch multi-touch interactive display screen.
Five connected tablet PCs.
Launch publicity & PR package.
Branding pack, signage and interior graphics.
Stationery – including unlimited supplies of
personalised nursery brochures.
Uniforms – Starter pack of branded shirts, polo
shirts and fleeces for you and your staff.
Installed biometric access system.
Installed CCTV system, including multiple cameras and hard drive recorder.
Specialised Nursery Management Software.
Office equipment (PC, printer, desk and chair).
Full business and operational training.
Assistance with recruitment of your Nursery Manager and Deputy Manager.
Full set of operational documents.
Your own website with all of your nursery details optimised for local searches.
Social media accounts (Twitter, Facebook etc.).
Full business planning service provided by in-house advisors.
Exclusive operating territory.