Create wonderful memories for children whilst following a flexible work pattern.
Create wonderful memories for children whilst following a flexible work pattern. Read Less
The award-winning Delightful Divas children's spa party Franchise
Create wonderful memories for children whilst following a flexible work pattern.
Delightful Divas offer a whole range of different events packages to party animals (boys, girls, mums and dads) in a fabulously kitted-out salon environment. Party packages can also be taken to homes and set up in bedrooms, living rooms and gardens. Whether tiny tots or teens are Harry Potter, mermaid or unicorn fanatics, Delightful Divas make every event one to never forget.
Our franchisees, just like the owners, are compassionate, caring and calm, with a friendly and positive attitude and an interest in working with children.
We aim to:
Inspire
Educate
Develop self-esteem
Support for new team members at Delightful Divas
The owners are a Delightful duo of mums – one with experience in childcare and the other a former spa manager.
When you buy a Delightful Divas Franchise, you will get a warm welcome to the team straight away. You will have immediate access to a private Facebook group, where we post and introduce useful hints, tips and workshops on how to engage children, how to make them feel like pampered princesses and how to build business relationships.
The possibilities are endless with this flexible franchise!
We have 3 different business models on offer:
The Delightful Divas Premises Model
With your premises franchise model you will receive all you need to run a successful Delightful Divas party venue, including fully fitted premises. You will host parties and give your customers the chance to use your Spa, Beauty Salon and workstation.
Franchise Fee: £10,000
Franchise Package Fee: £15,000
Total Fee: £25,000
The Delightful Divas Home Model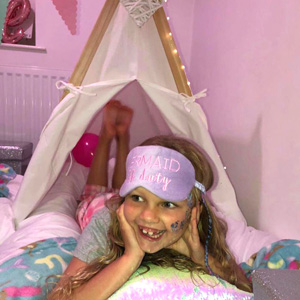 With the home franchise model you do not need to have a premises to work from, you can offer the Delightful Divas experience whilst working from home. You will be providing themed party packages for both children and adults that can be set up at your client's homes.
Franchise Fee: £5,000
Franchise Package Fee: £500
Total Fee: £5,500
Combine the two
Franchise Fee: £15,000
Franchise Package Fee: £15,000
Total Fee: £30,000
"Just wanted to thank you all for a fabulous unicorn party for my daughter. All the girls absolutely loved it and felt like pampered princesses!"
What you get:
As well as getting the chance to work with children, help families bond, and pamper parents on their days off, the franchise includes:
Full and completely flexible premises fit-out
Finance of up to 100% available
Opening stock and consumables
Flexible working hours to fit your lifestyle
Full use of the brand and business model and website
Full initial training on all aspects of the business formula and business networking
Marketing materials, including a yearly planner
Operations manual
'How-to-be-a-diva' window displays which bring in revenue
Children's robes
Branded clothing
What the children get from the magical Franchise
Play and fun activities is equally as important for children as doing their homework.
You will help youngsters:
Learn to exercise problem solving skills
Show an ability to think flexibly
Practise processing their emotions
Face their fears
Try new things without fear of mistake
If you want to spend your time making other people happy, why not fill in a form for the Delightful Divas Franchise?