Run your own learning support business with five income streams. No education background needed. My Own Tutor offers full set up support, and ongoing back up.
Run your own learning support business with five income streams. No education background needed. My Own Tutor offers full set up support, and ongoing back up. Read Less
My Own Tutor is a Learning Support Service that is ahead of the pack in the service delivery – Now it is possible to build your own business with a My Own Tutor franchise!
You can operate selling the home study programme only (which means we do all the learning support work!!), or you can run tuition centres as well – it's your choice- you can do either or both! Either way we give full training and comprehensive ongoing support through our franchisee support management.
If you get only 10 new home-study-only students per month, then by the end of the first year, your monthly profit will be c.£2500 and the profit earned in the first year will be c.£17,000 – and 20 students per month would of course double those numbers.
If you run a tuition centre then each one hour session of 15 students would give you a profit of around £250 per one hour session….so each month, that weekly one hour session with 15 students will give you around £1000 profit. So if you ran 1 one hour session 5 days a week with 15 students in each session, that would give you c.£5000 a month profit.
You do not need to be a teacher to run a My Own Tutor franchise. You can simply sell the Home Study programme, or , if you want to run a tuition centre, simply hire teaching assistants by the hour (we will help you to find them in your area) and a venue by the hour (we will help you to find that as well) and run it as a part time or full time business.
Here are the basics about the finance side of things:
We charge a price for the franchise. You will either earn £10 per week from a student (home study only) or £21 per week if you are running a tuition centre – And you can do one or the other or both. We have NO FIXED MONTHLY FRANCHISE FEES. The only other amount you pay to us apart from the purchase of the franchise is for each paying student that you have – just £2 per week.
The purchase of the franchise includes 10 free student logins for which you do not pay us £2 per week – but which you of course will use to generate income. For which we do:
All of the student admin, production of email and online reports for parents.
running the Freephone teacherline (mainly used for homework help)
Providing the Shop2Learn membership of the discount rewards programme for all My Own tutor families (and franchisees)
And most importantly of course managing the Year 1 to GCSE National Curriculum compliant study programme which includes Lessons and Exercises in Maths and English, Exercises in most other subjects studied to GCSE, Assessments and the teacherline.
Customer support – any issues to do with IT or login etc – we do the customer support.. and below – details of the payment plan with illustrations about how it works. The payment plan is an alternative way of getting started quickly with a My Own Tutor franchise.
Our standard price in September 2017 will be £1950 for the franchise or by Payment Plan* (see below).
Until the 20th of August, we have a special offer of £1550 as the one-off payment for the franchise. The Franchise purchase includes:
Your own Microwebsite and email address
Full training
Full ongoing support
10 free student logins
Your own exclusive My Own Tutor business area.
Marketing templates
Social networking templates
Provision of all study materials - proven, cutting-edge, successful and national curriculum support
Full teacher support for your customers on a free phone number 6 days a week, 52 weeks a year
Payment Plan
Instead of paying £1950 as a single payment you can start with an initial payment of £500, followed by 18 monthly payments of £148 (you still get the 10 free student logins included in this).
If you would like to discuss this further, please email or call 07837189601 and speak to one of the Directors.
The out of school tuition industry is worth 6.5 Billion pounds, and is growing year on year. Increasing budgetary and social pressures on our schools and teachers, changing curriculum, all mean that parents are more concerned than ever to give their children the help they need to achieve exam success.
With My Own Tutor, you can enjoy a business that's designed to provide all the latest material in maths and English, through a world-class online system that's updated on a daily basis. Our innovative online system is flexible, well developed and most of all gives children the support they need 24/7. No other after-school tuition franchise is close to this, and that's why parents love us!
About My Own Tutor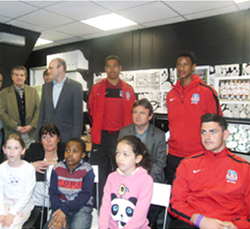 My Own Tutor has helped thousands of children since it started over eight years ago. The philosophy behind My Own Tutor's service is to give learning support 24/7, rather than simply once a week at a tuition centre. The combination of its curriculum compliant study programme, teacher line for homework help, online interactive lessons with Mentor Tutors and Tuition Centres means that it has a complete solution for all tuition needs.
This approach means that there are five different potential revenue stream sources for our franchisees, maximising the earnings potential and return on investment for them.
Our study programmes enable our franchisees to easily accommodate children in a range of different age groups and ability levels in the same sessions. The study programme also provides additional income streams, as some students will elect only to use the home study materials, without attending sessions in person.
A My Own Tutor franchise offers opportunities for people with no educational background to operate a successful business in this burgeoning market.
Of course, if you have a background in education, it is ideal for you as a franchise business as well.