Aspray seek credible professionals who have the drive and determination to get the best results for their customers. Franchisees benefit from running a business with high returns and the huge sense of personal fulfilment which comes from helping people get their home or business premises back to... Read More
Aspray seek credible professionals who have the drive and determination to get the best results for their customers. Franchisees benefit from running a business with high returns and the huge sense of personal fulfilment which comes from helping people get their home or business premises back to normal when the worst happens. The franchisees who joined Aspray in recent years, amidst the covid pandemic, have proven how resistant our model is in times of recession, with some producing turnover figures of almost double their first-year predictions. Read Less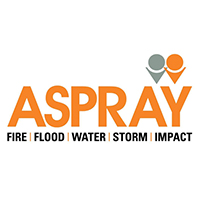 About Aspray
Many policyholders struggle when trying to make a claim on their building's insurance policy, whether that be down to misunderstanding their policy terms or a lack of building knowledge. Aspray franchisees offer policyholders an award-winning service, representing their best interests when they need to make a claim. The loss assessing service they provide is free to policyholders when Aspray project manage the reinstatement works using their approved contractors. Every policyholder is entitled to appoint an independent loss assessor, such as Aspray, meaning the service is in demand.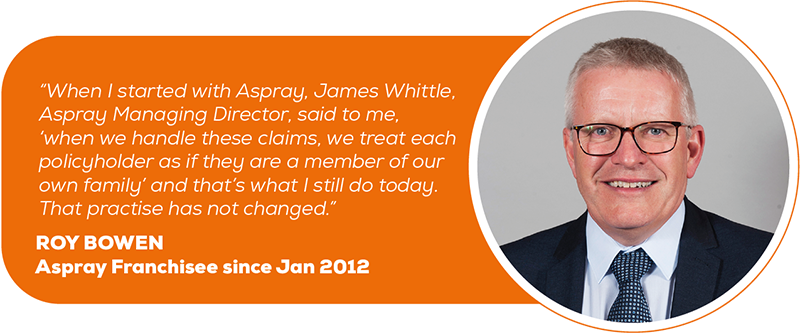 "…we say to our friends, as part of your housewarming here's the best phone number you'll ever have in your phone." Aspray Customer, Durham
When we say we care about policyholders… we mean it!
Our dedication to the policyholder was rewarded in 2021 when we won the prestigious 'Outstanding Services to the Policyholder' award at the British Claims Awards.
"Aspray takes charge of property damage claims, handles every detail, and takes the time to communicate and explain the situation. The pandemic proved no barrier to this excellent service delivery and Aspray continues to use technology to maintain and even improve on this record."
British Claims Award Judge 2021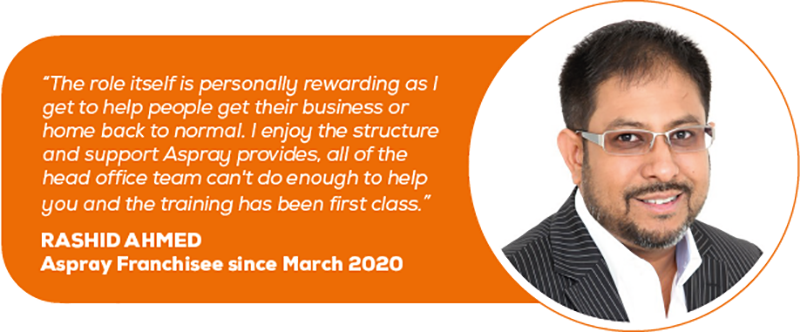 Franchisee Focus: Jack Parkhouse
Franchisee since January 2020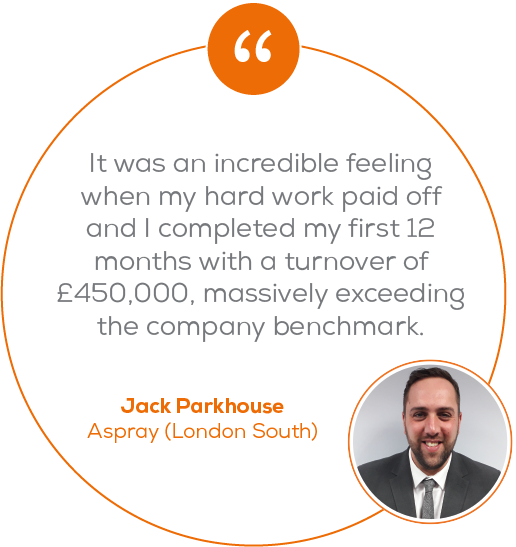 Starting a franchise just 6 weeks before the height of the pandemic could have derailed many but for Aspray franchisee, Jack Parkhouse, failure was not an option. Taking on board everything he had been taught about the Aspray business model, along with the support of head office, Jack adapted his thinking on business growth and lead generation.
Coming from a construction background where customer interaction was limited, Jack says one of the best aspects of his role at Aspray is seeing the happy customer once a claim is complete. "The claims process is an emotional journey that you go through with your customer, it's a life event, and being an integral part of that is a great responsibility. Seeing the reviews from my customers and the 5/5 overall score on my webpage makes me extremely proud"
Case Study
One of Jack's prouder moments was the completion of an escape of water claim in a Victorian 5 bedroom home whereby the policyholder was a young first-time homeowner. The claim had been unresolved for two years before Jack took over the negotiations managing to bring the claim to settlement. He then managed his vetted contractors to complete the works, reinstating the property to its pre-loss condition.
Training and Support
Head Office Sales Team
Aspray has built a large introducer network across the UK in both regulated and non-regulated sectors, who refer claims for our franchisees to manage. Our head office sales team build and nurture relationships with these companies, many of which have worked with Aspray for numerous years.
Accredited Induction
Led by company experts, our ten-day induction course covers everything you need to know to operate your franchise and is in line with British Damage Management Association (BDMA) standards. Aspray fund those franchisees who want to further enhance their professional competency by gaining a certified qualification from the BDMA.
Ongoing Claim Handling Support
The centralised claims handling team provides continuous support with understanding insurance, negotiating, and settling the claim. Every member of our claims team is Cert CII and Cert CILA qualified, or are working towards these qualifications, putting them in the best position to help with all your technical needs.
The team also manage the phones 7 days a week, 24 hours a day and are often the customers first point of contact.
Training in the Field
Both sales and operational support are offered in the field and this support continues throughout your time with Aspray.
Our highly trained Network Support Manager offers expert guidance when scoping claims, working closely with franchisees to not only bring claims to completion but also improve best practise and business growth.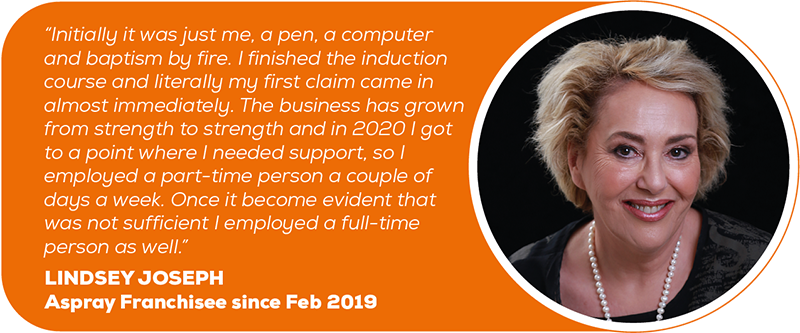 Opportunity for Growth
The Aspray franchise can be operated from home, meaning overheads can be kept to a minimum, however, many of our higher earning franchisees now work from offices with a small team of staff.
What makes a great franchisee?
Our franchisees come from many walks of life, but there are a few keys skills that they share:
Great communication skills
Business acumen
Passion and commitment
Experience within the insurance or property sectors
Aspray were the first franchise in the UK to implement the Zorakle profiling system, which measures the skills, values, and attributes of potential candidates against Aspray's top-performing franchisees. Speak with a member of our recruitment team to take the test and see how you measure up.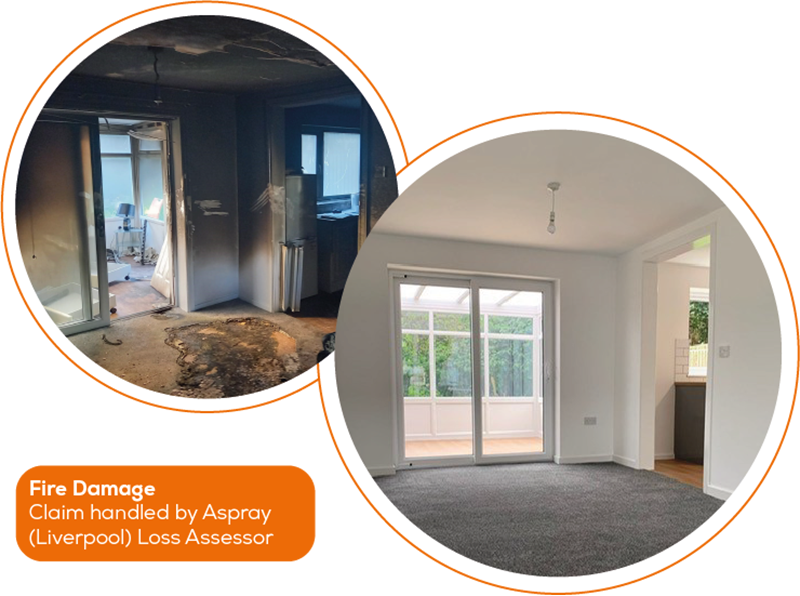 Financials
Aspray Franchise Package costs £28,000 +VAT and you'll also need working capital.
Aspray has long-standing relationships with third-party lenders who can lend between 70% to 75% of the total investment amount required for you to start your franchise (subject to status).
PLEASE NOTE: You should be confident that you understand and accept all the personal and financial risks owning and growing a business can bring, before purchasing any business or franchise.
The Next Steps
Book a call with Aspray's Recruitment Team.
The call will give you the opportunity to learn about:
The award-winning brand and proven business model
Benefits of the Aspray service
How to generate work and why people refer work to us
The call also gives Aspray the opportunity to find out more about you, your background, and your skills.
To book a call, please complete the enquiry form below.