SHAPING THE NATION
The Easier Route to a Profitable Barbershop in Exceptional Times
Without doubt the most recognised barbershop on the high street, a barbering Academy and a range of professional grooming products, MR. Barbers is well known as an industry leader.
Proud winners of MOBAA's Best Business Leader 2018 and the NHF Best Group of Businesses Award 2017, MR. Barbers is a progressive company with big plans.
Franchising under the long established MR. brand, you will have access to a full turnkey service, financing and hands-on training to ensure your MR. Barbers venture is a success.
There's never been a better time to consider franchising with MR. Barbers. Whether you have been in the industry for years or you are contemplating embarking on a new career, take the time now to fully consider this opportunity. We guarantee to support you every step of the way in launching your business and operating profitably well into the future.

The Opportunity
With over 25 years of experience as barbers, shop and business owners, we understand what it takes to make your franchise work.
The franchise package incorporates everything you need for an uncomplicated rebrand or for a smooth and hassle-free introduction to the world of barbering and our experienced team will assist you through the entire process.
You'll be a part of the MR. Barbers business network and enjoy the benefits that a wealth of knowledge and connections bring.
What You Get
Shop fit out and equipment under brand style guidelines
A responsive online presence
Help with location and premises acquisition
Integrated EPOS and bespoke management systems and business reporting
Innovative and engaging social media campaigns
Mobile booking app
Assisted marketing and collateral
Recruitment assistance
Professional advice and support covering legal, compliance and safety
Advice and support covering legal, compliance, safety and insurance
Access to Funding
COVID 19 PPE and shop sanitiser pack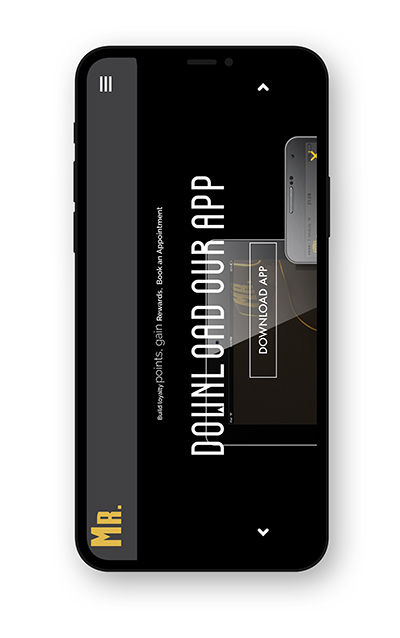 "The shop's revenue has increased 50% since rebranding with MR. Barbers. With our distinctive and recognised style and brand, the shop is now a standout business on the high street helping us recruit quality barbers and attract new customers."
Aaron Tokley, Newmarket Rebrand
Our Franchisees
MR. Barbers is looking for people who are positioned to set themselves up in business and who can see the value in the brand and all that it encompasses.
It is recommended that you have substantial barbering experience or have an experienced barber joining you in your venture. Business and management experience alongside the drive and determination to succeed will prove invaluable.
Whether you are a barber, shop owner or investor… this is an opportunity you can't afford to miss.
The Cost
The franchise fee is £15,000 and the package fee to fit out and equip your shop is c. £50,000 dependent on the size and condition of your premises.
The Next Steps
If you are interested in the MR. Barbers franchise opportunity, please forward your details and we will be in touch shortly.