Since coming on the scene we've made a big impression.
Amassing brand loyalty from the homeowners and businesses to whom we cater, Lockforce is quickly establishing itself as a market leader in the locks and security industry and currently has 27 franchisees across the UK.
Commanding the credibility attached to a growing household name…while also enjoying the start-up environment that encourages our network members to have a real impact on the company which they're helping to grow…our franchisees get the best of both worlds.

However, that's not to say you'll be left to build your business on your own! For Lockforce has a dedicated team of support staff at our base in Henley-on-Thames, who are there to assist you in the day-to-day running of your enterprise.
From sales and digital media specialists, through to finance, brand development and call answering operatives, the Lockforce head office is there to give you a guiding hand throughout the launch and maturity of your franchise.
Having helped set up over 70+ franchises in the Forces Group network, you can be sure to trust use know what we're taking about!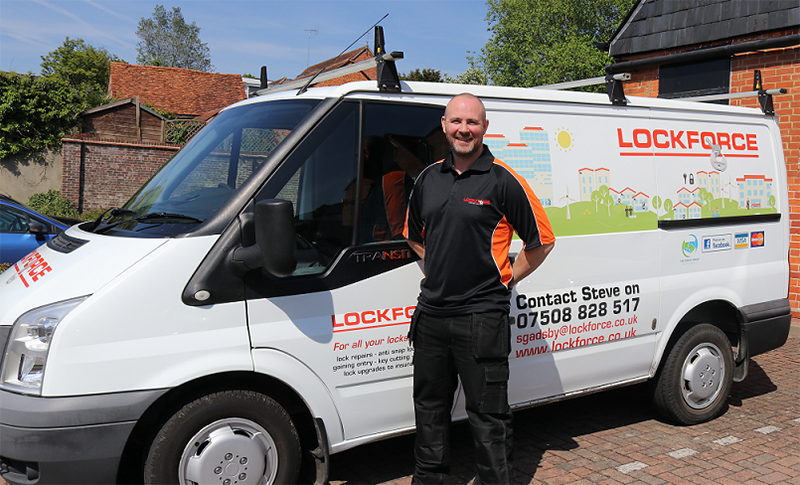 What is included?
Here at Lockforce, we want to help generate business for you so that you get revenue in straight away!
Our marketing support consists of...
Marketing starter pack worth over £2,000
We'll help you generate your first £5,000 in revenue and beyond.
Fully optimised website to help you generate enquiries.
Google Adwords to generate calls and leads.
Facebook page to promote you locally.
Time out on the road with a Lockforce franchisee to see how they do it.
Set of templates for local marketing including leaflets and business stationery.
Fully automated reviews system.
Vehicle Livery and branded uniform so you never go unnoticed.
What you get...
A Defined Territory
Huge Lockforce Starter Pack of tools of the trade, stock and uniform
A fully equipped tool kit for domestic lock call outs
A Contract Management System, to keep track of jobs and ££
Area-specific webpages tailored to your business to attract customers
Comprehensive technical training which will teach you all you need to know to be successful
Ongoing business support from the moment you come on board
Direct access to your web development team
Business planning consultation to make sure you are on the right track
Full on-going Technical support
Public Liability Cover - if the worst happens, you'll be covered.
Cross-media marketing opportunities co-ordinated by our in-house team.
Why Lockforce?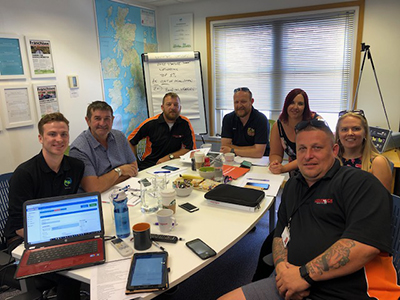 We have 27 successful franchisees
We have a management team who have extensive experience in running a successful Franchise Business
and over 30 vans on the road around the country.
and thousands of happy and satisfied customers
The Reviews speak for themselves
Why we're the best
All franchisors promise a stable market, with Lockforce, we guarantee a recession proof market. We're a low cost franchise, with an endless profit potential; this allows our franchisee to work at their own pace while earning as much as they can.
We even have franchisees that reported over £10,000 of turnover in their first couple of months.
Through our continuous efforts, we have been able to scoop multiple entrepreneurial, franchise and service awards.
New Franchisees will participate in our comprehensive training program tailored to teach you Lock Smithing, business and marketing. This takes the format of classroom, workshop, practical and then buddying an existing franchisee. Our aim is to get you out in your territory earning by Week 4, we then work with you on your continuous personal development.
We like to get to know you, and a great way for you to meet us is at our Discovery Days. Here's what'll happen:
You'll find out what's involved, what's required from you, and what we'll do for you
You can chat with existing franchisees and get to know what a typical day in the life of a franchisee is like
You'll meet Sean, Gayle and the team, and get your questions answered.
You can see if Lockforce might be right for you
You'll enjoy lunch on us!
Do I need experience?
We don't require our franchisees to have previous experience in Lock smithing or business; we believe there is no race, age, gender, or social class in our industry. If you aren't put off by hard work, are able to drive, and love variety —then you're already a prime candidate.
We require a modest minimum investment of only £14,995 + VAT, then preparations can begin. Overall, we are looking for individuals with the absolute desire to succeed.
We also work with an independent Finance company who can lend up to 70% of the investment. *usual credit terms apply.
Next Steps
If you are interested, would like to find out more, or simply would like an informal chat, please complete the form below and we will get in touch with you.